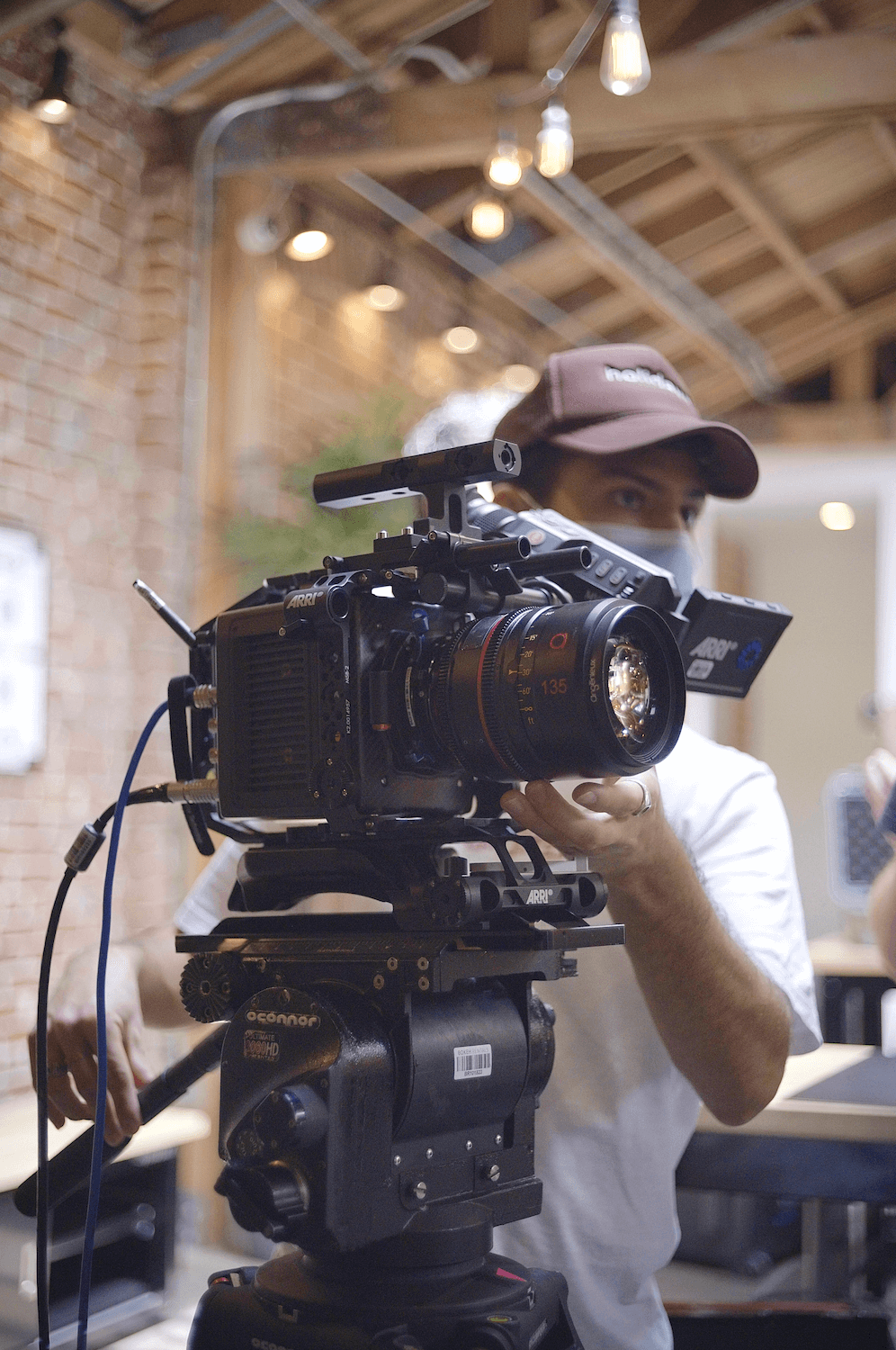 Angénieux Optimo Prime Lens Series
By Bokeh Rentals | September 20th, 2021
Angénieux has spent decades cementing its name in film history as one of the world's top optical manufacturers. It's been making cinema-centric lenses since the 1950s—and its new collection of large format primes is something to behold. The French optical brand has spent the last year releasing its new Optimo Collection, an impressive line of full frame, fast-as-could-be cinema primes. After being first announced in May 2019, the Optimo line has been released a few lenses at a time—which makes sense, considering the sheer size of the full package (not to mention the supply chain challenges posed by the COVID-19 pandemic). The comprehensive package of lenses include:
| | | | | | | | | | | | |
| --- | --- | --- | --- | --- | --- | --- | --- | --- | --- | --- | --- |
| 18mm | 21mm | 24mm | 28mm | 32mm | 40mm | 50mm | 60mm | 75mm | 100mm | 135mm | 200mm |
| T 2.0 | T 1.8 | T 1.8 | T 1.8 | T 1.8 | T 1.8 | T 1.8 | T 1.8 | T 1.8 | T 1.8 | T 1.8 | T 2.2 |
The T-stop says it all: these primes are great in low light and built for digital, 21
st
century filmmaking. From there, Angénieux's penchant for versatile gear only continues. A key innovation in the Optimo line is its Integrated Optical Palette (I.O.P.) system, touted for its user customizable abilities.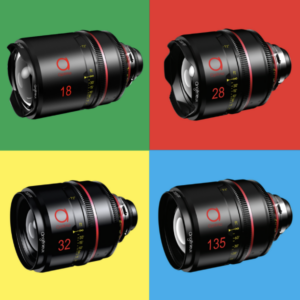 As Severine Serrano, Managing Director of Angénieux Int'l Sales and Marketing
defines the I.O.P
: "It's like the palette of a painter, where each color is similar to what you can change in the lens to paint your own image. The I.O.P. offers users the ability to express their individual creativity, to customize the look." What this means in practice, comes down to three areas of customization: "You have three things inside the lens that you can change. You can exchange the rear filter, the iris assembly, and an internal glass element in the middle. These three things can enable cinematographers to explore unique styles, depending on the project."
Rear filter design

Not only is the rear filter placement useful for any attachments enabling sensor compatibility, but it could free up valuable rig space. With rear filter capabilities, it may become unnecessary to put a matte box at the lens' front. This could save you space on set, which could drastically change the calculus in a close-quarters filming situation.

 

Replaceable iris blade

Because of the ability to replace iris blades, DPs are essentially given customization of their bokeh. For now, there's a three-blade iris for vintage, triangular bokeh; a six-bladed oval iris for faking anamorphic, and a round iris. Check out a bokeh test on our Instagram feed.

Internal glass element

There are lots of possibilities to creatively sweeten images with the removable optical element feature. For example, users can insert a clear filter that they've drawn over in metallic marker, like the fellas from C.V.P. did in their remarkable test.
For anyone looking to make the most of the Integrated Optical Palette system, it's worth reading a
PDF of Angénieux's official I.O.P. manual
before you get your hands on any equipment. Users be warned: take the extra step of identifying any I.O.P. customizations before renting any gear. Angénieux anticipated this potential issue, and to minimize confusion, the manufacturer included three red squares on the lens' exterior that are used to specify the internal elements currently inside the lens system.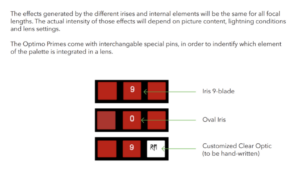 Beyond the I.O.P. system, Angénieux's new Optimo series has a clear focus towards consistency. The aforementioned 1.8 T-stop in most its lenses simplifies the process of swapping one focal length our for another, which could happen a lot when dealing with primes. A bonus, it should be mentioned, is that the Optimo primes have similar weights, so switching lenses shouldn't ever be too cumbersome a task.
And, most importantly, the lenses match remarkably well visually; with a few tiny asterisks, such as the unavoidable, yet minor, barrel distortion when using the widest lens of the set.
Although Angénieux only recently released the Optimo collection, the new series has already made its big screen debut multiple times over. Indiewire conducted a survey to learn that of the 52 films that premiered at Cannes 2021, Angénieux was the
second most popular brand of lenses used
. Both Optimo primes and Optimo zooms were used on films like
Annette
,
Bloody Oranges
, and
Anais in Love
(among others).
The Angénieux Optimo Prime Series is a spectacular new option for large format filmmaking. If you're interested in their look, click below to see visual demonstrations and full tech specs:
Contact us to customize a package to suit your production needs at low prices!