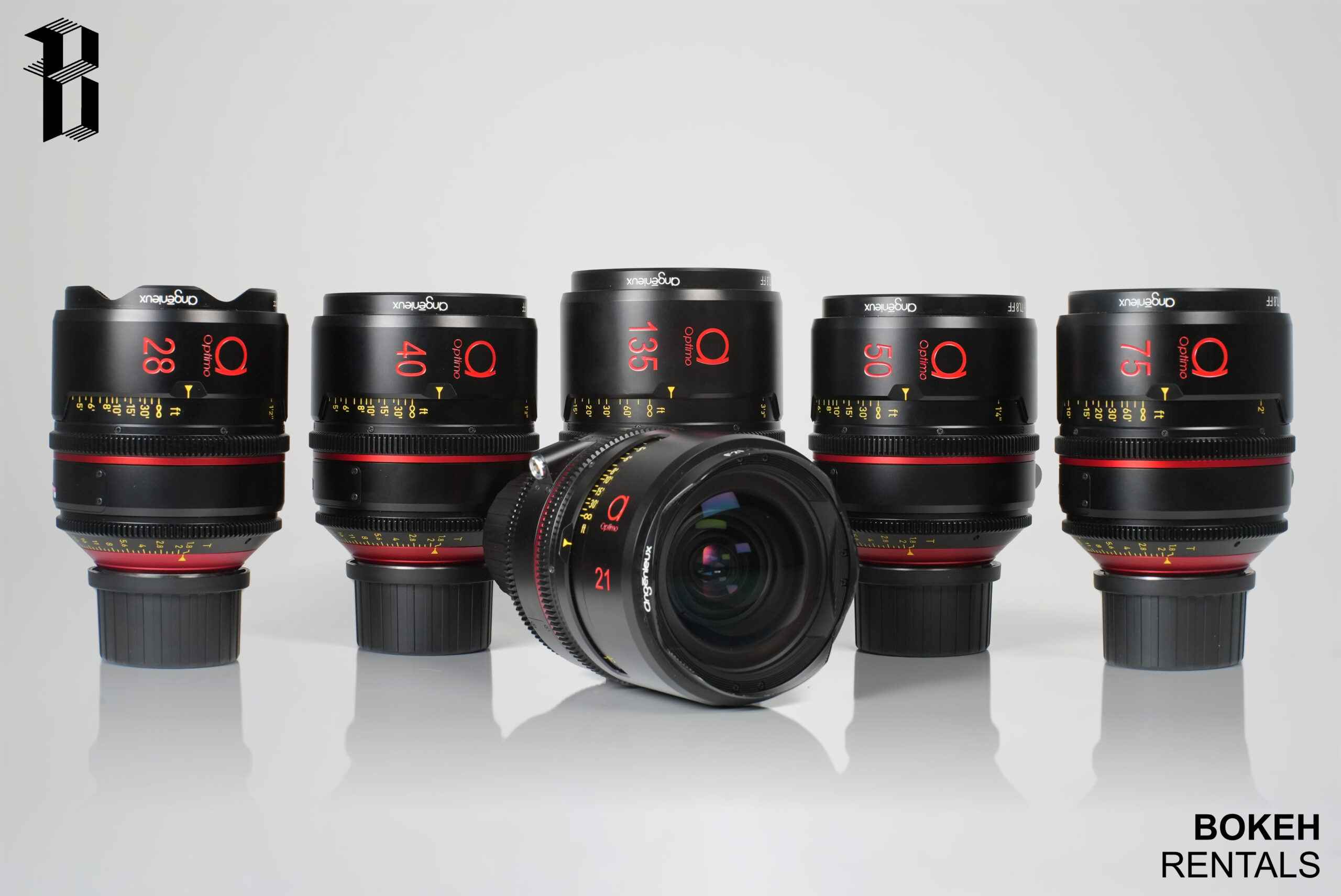 Angénieux Optimo Prime Cinema Lens
By Matthew Fresolone | July 11th, 2022
70 years after its first series of Primes, Angénieux has released the Optimo Prime Series, a groundbreaking collection of prime lenses.

Angénieux has been at the forefront of cinema innovation for decades. With its recent release, it is contributing to the evolving field of Full Frame Cinema Primes. This series of lenses, available as three different package, holds dear the legendary Angénieux look, which prides itself on a naturalistic yet controlled aesthetic.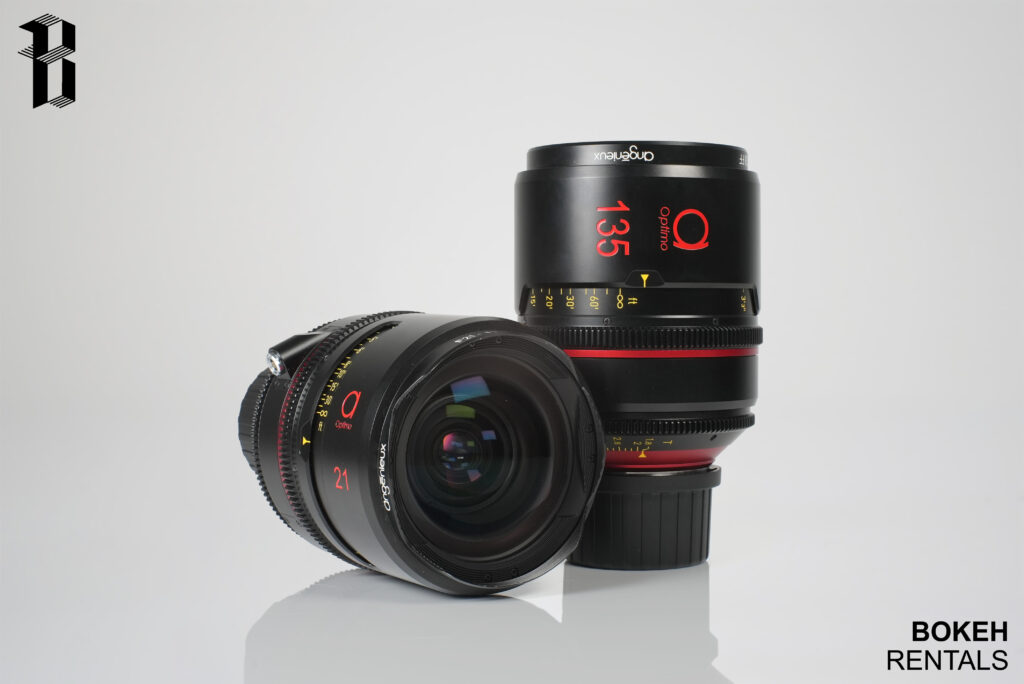 ---
THE ANGÈNIEUX OPTIMO PRIME LOOK
The Optimo Primes carry forward the legendary Angénieux look. The lenses have incredible color rendition with a controlled aesthetic that reins in showy expressions like lens flares and distortion.
A key benefit of the Optimo Primes is its ability to shoot full frame and Super 35. In fact, the Optimo Primes can even cover some large formats, like Alexa 65 (in 5k crop mode only). The Optimo Primes have a remarkable image circle size of 46.31mm across the package.
T1.8 APERTURE
Part of the Optimo's look is its excellent ability to capture low light scenarios. Its naturalistic appeal owes to the lens' ability to capture naturalistic spaces-- such as exterior shots in environments lacking direct sunlight. This wouldn't be possible without the Optimo Primes' incredible aperture capabilities.
The Optimo cine lenses have a maximum aperture of T1.8. There are two exceptions: the widest lens (18mm) can open to T2,0; and the longest lens (200mm) has a wide limit of T2.2.
PHYSICAL SPECS
The Angénieux Optimo Primes are built with impressive consistency. Seven of the collection's twelve lenses have the same weight and the same image circle of 46.31mm. Additionally, all twelve of these prime lenses have the same focus barrel rotation of 300°. Besides the wide rotational range allowing precise focus pulls, the consistent focus rotation means that operating one lens' focus is essentially the same as operating another. Focus pullers can operate in the same manner on any of the Optimo Primes, which means less takes blown to soft focus.
Additionally, all twelve Optimo Primes have the same gear positions. This means that lenses can be swapped quickly without having to move external lens motors.
The Optimo Primes by Angénieux are available with the PL camera mount system. They can be used on professional cinema-grade camera bodies like the Sony Venice and RED MONSTRO.
---
INTEGRATED OPTICAL PALETTE
The Optimo Primes' Integrated Optical Palette is a three-piece system of replaceable parts: the variable iris blade, replaceable internal filter, and replaceable rear filter.
Variable Iris Blade
The replaceable iris blade unite allows users to hand-design the bokeh. The Optimo Primes are sold with a nine-bladed iris, but they can be replaced with other shapes from Angénieux. For example, customers can acquire a three-bladed iris shape from Angénieux, which can then be installed to achieve triangular bokeh. Or, some users elect to mimic anamorphic with a six-bladed iris, which could be installed into the Integrated Optical Palette.
Internal Filter
Users can install brand filters, such as the Black Pro Mist from Tiffen, to experiment with the image as they would with a traditional matte box filter. Clear filters can be purchased for cinematographers to modify to hand-design their own unique image look. And because the Integrated Optical Palette is standard among the Optimo Primes, these filters can be swapped between different Optimo lenses.
Rear Filter
Customizing filters to experiment with light could prove more interesting closer to the iris. This is why an additional layer of manipulation is possible with the Integrated Optical Palette's rear filter.
The Optimo Primes have an exterior marking system that indicate the internal elements. By marking the red squares, users can keep their Integrated Optical Palettes organized.
Although a lens technician is recommended, Angénieux
sells an optional toolkit
to take apart and customize the Integrated Optical Palette. It only takes 15 minutes to get inside the IOP system, which means that cinematographers can customize their internal filters until the day of production. If a technician is going to dissemble a lens, it should be done in a dust, dirt, and debris-free space, such as a lens facility or rental house.
The triangular bokeh below was captured in a
Optimo Prime test
by CVP: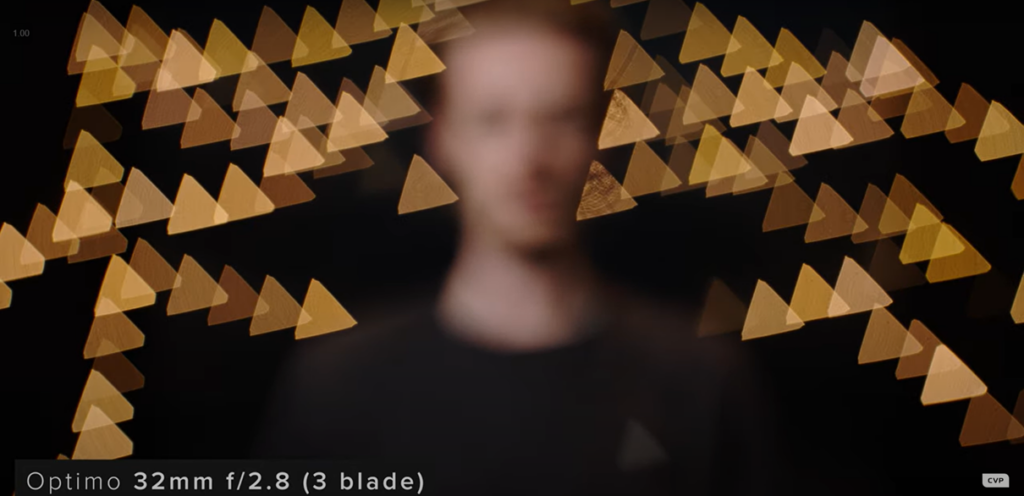 ---
COOKE /i TECHNOLOGY
Following customer feedback from the Optimo series zoom lenses, Angenieux has added a meta data system.
This software developed by Cooke is called /i Technology. It allows film and digital cameras to automatically record key lens and camera data for each frame shot with the Optimo Primes. This metadata can be seamlessly integrated into the postproduction workflow, which saves plenty of time and money in the edit. VFX-heavy productions especially benefit from the Cooke /i Tech, which also logs information critical to the VFX pipeline, such as focal length and T-Stop. The metadata system is also paired with the ability to provide inertial tracking and shading data, which is used by VFX teams for matchmoving and 3D tracking.
Cooke's patent-pending /i Tech is a standard across all its new lenses, saving time and budget by eliminating the guesswork.
---
FLARE & DISTORTION
The lens flares are relatively controlled on these state-of-the-art cinema primes. Some users may notice that lens flare is more prevalent in the longer lenses. In addition to their controlled flares, the Optimo Primes have great distortion control.
However, the Optimo Primes have a great amount of breathing, which could be a no-go for some cinematographers. Breathing is distortion caused by focus racking, which will affect different shooting styles.
---
THE BOTTOM LINE 
Overall, Angénieux's Optimo Prime cine lenses are excellent Full Frame options for any project.
The Optimo Primes are sold in three differently arranged sets:
PLATINUM: 18mm, 21mm, 24mm, 28mm, 32mm, 40mm, 50mm, 60mm, 75mm, 100mm, 135mm, 200mm
GOLD: 18mm, 21mm, 28mm, 32mm, 40mm, 50mm, 75mm, 100mm, 135mm
SILVER: 21mm, 28mm, 40mm, 50mm, 75mm, 135mm
Even the six-lens package comes at a
hefty retail price of $155,388
. Full-out purchases of professional cine lens packages are best saved for institutions like well-funded studios and production companies. Anyone looking to fit the Angénieux Optimo Primes into their production budget should consider checking a professional rental house, such as the LA-based
Bokeh Rentals
.
---
Considering renting? Why not check out Bokeh Rentals' Angénieux packages!
•Rent the Angénieux Optimo Prime Lenses at Bokeh Rentals
Contact us to customize a package to suit your production needs at low prices!