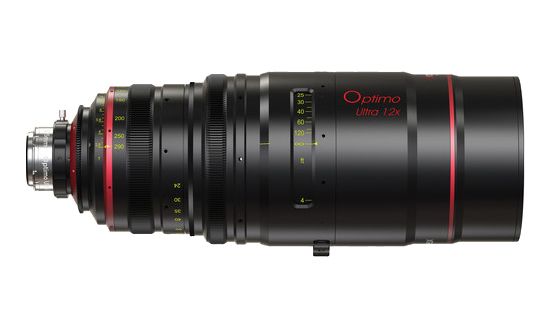 Angenieux Optimo Ultra 12X Full Frame Cine Zoom
By Matthew Fresolone | June 6th, 2022
Angénieux has been advancing the film industry since the 1950s, whether it be with large format innovation or designing spectacular zoom lenses, such as the Optimo Anamorphic Zooms.

Recently, the historic optical manufacturer has announced glass that innovates both in shooting format and zoom technology: the Optimo Ultra 12x package.


---
The Basics
Angénieux's newest cinema lens is a successor to the Optimo 24-290 and Optimo 28-340mm.
Not only are these state-of-the-art cinema zooms capable of extraordinary Angénieux-quality images, but they are capable of cycling through different mechanical arrangements to shoot with different image circles in various formats.
Depending on the image circle configuration, the new Optimo Ultra 12x covers 24-435mm at its widest. It can shoot in Super35, Ultra35, or Full Frame/Vista Vision. The Optimo Ultra 12x is the ideal long-range cinema zoom for high-end productions, such as feature films, TV series and music videos.
---
Image Look 
Beyond its interesting mechanical arrangement, the Optimo Ultra 12x produces incredible images worthy consistent with Angénieux's sterling industry reputation.
Unlike cheaper zoom lenses that exhibit imbalances between focal lengths, Angénieux's 12x Optimo Ultra pulls out all the stops for consistent performance across the focal range. For instance, there is a remarkable balance between contrast and resolution as you zoom in and out of focal lengths.
Like any well-built cinema zoom, there is no ramping, which means you can rack focus at a consistent aperture. There is also low distortion, very limited breathing, and stable performance between focal lengths and focal distances.
With its robust build and cinematic look, the Optimo Ultra 12x is perfect for high-end cinematic productions.
---
IRO Technology
The Optimo Ultra 12x is capable of achieving three different image circle configurations due to Angénieux's Interchangeable Rear Optics technology.
So, the Optimo Ultra 12x has different, dedicated sets of rear optical groups and variable scales for each image circle:
Full Frame/Vista Vision: (Ø 46.3mm)
Super 35: (Ø 31.1mm)
U35: (Ø 34.6mm)
Each image circle comes with its own different zoom ranges and apertures. Although elements of the look, such as contrast, color reproduction, and latitude, won't be affected by swapping image circles, DPs should be aware that mechanism-dependent features, such as T-stops and image sizes, will be affected.
Full Frame/Vista Vision Coverage: 36-435mm, T4.2 -T22
Super 35 Coverage: 24-290mm, T2.8 – T22
U35 Coverage: 26-320mm, T3.1 -T22
---
Switching Image Circle Coverage
An experienced technician can swap out the standard Super 35 components on the Optimo Ultra 12x Zoom to enable the U35 image circle coverage. However, individuals can swap out the U35 or S35 mechanisms to switch to a Full Frame/Vista Vision image circle coverage.
Although you may prefer for a technician to operate the rear optics components, Angénieux has released a tutorial video for anyone interested:
---
Solid Build  
Although the Optimo Ultra 12x was built as a successor to other Optimo Zooms, Angénieux has given it a new mechanical design. This stronger build improves the durability and use of the Optimo Ultra 12x. Moving components have been made lighter, an anti-abrasion coating has been applied to mechanical components, and there is improved air flow throughout the lens. The new Optimo Ultra cinema zoom is also built to accommodate extreme shooting circumstances, such as heavy winds or frigid temperatures.
Angénieux's new Optimo Ultra 12x features a 9-bladed iris with consistent front diameter of 162mm and a maximum T22 aperture. There is minimal color fringing as a result of limited aspherical elements. The Optimo Ultra 12x is built with the PL mount system, the industry standard for high-quality lenses. It is also compatible with an LPL mount.
The Optimo Ultra 12x has a focal rotation of 321°, perhaps the largest among all cinema lenses. This allows operators to achieve incredibly precise focus. Additionally, there are 70 focus marks around the focus ring. Focus markings are available in both feet or meters. The zoom ring has 170° zoom rotation, a nimble balance between fast focal changes and hitting precise zoom-ins/zoom-outs on cue.
It's worth noting that the Optimo Ultra 12x weighs 28.1lbs in U35 or FF/VV configuration and 27.7lbs in Super35. This shouldn't comes as a surprise though, considering the extensive zoom and focus capabilities, which require not only a long durable barrel, but also many intricately designed, internal components.
---
The Bottom Line
Once Angénieux's newest cinema zoom hits shelves, it's going to find dependable use among high-level shooters. The Optimo Ultra 12x is an excellent step forward for long-range zooms:
Game-changing IRO system to switch between three image circle coverages (S35, U35, FF/VV)
Expansive focal ranges of 36-435mm (FF/VV), 24-290mm (S35) and 26-320mm (U35)
World renowned Angénieux look
The Optimo Ultra 12x is available for pre-order from various retailers. Most sellers list the entire package, but this lens can also be found with only the Full Frame/Vista Vision rear optics. Prices for the entire package
float around $110,000
, and the FF/VV-only can be found for
about $98,000
.
The Optimo Ultra 12x is an exceedingly high quality product built for big budgets. Unless you're a rental house, well-equipped studio or ambitious production company, it's best to keep the focus on renting.
---
Considering renting? Why not check out Bokeh Rentals' Angénieux packages!
•Rent the Angénieux Optimo 56-152mm Anamorphic Zoom at Bokeh Rentals
•Rent the Angénieux 24-290mm Zoom (not Ultra) at Bokeh Rentals
•Rent the Angénieux Optimo Primes at Bokeh Rentals
Contact us to customize a package to suit your production needs at low prices!