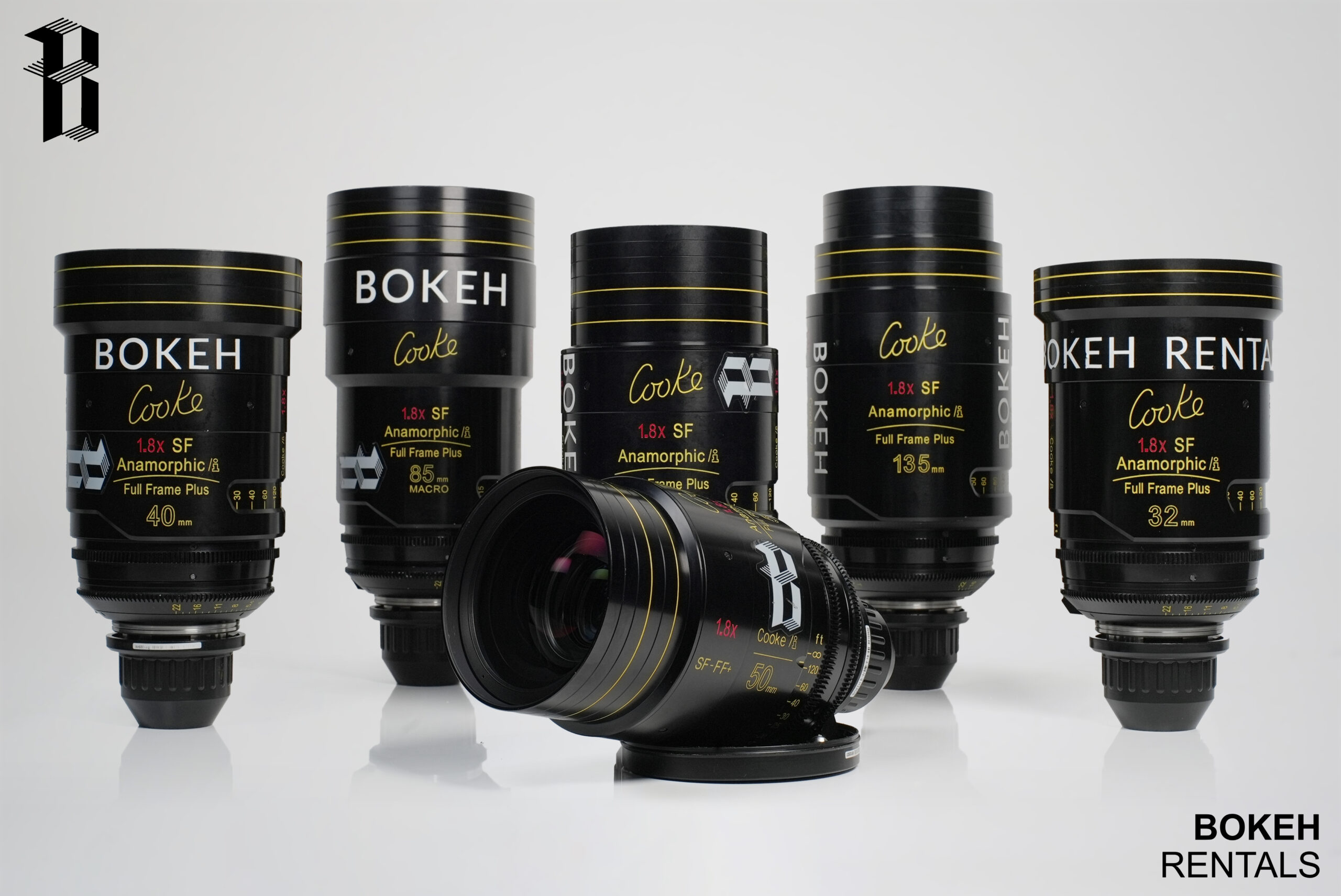 Cooke Anamorphic 1.8X SF Primes
By Bokeh Rentals | April 11th, 2022


Following the success of the Cooke Anamorphic primes, the UK-based optical manufacturer understood that consumers wanted even more expression to the image's vintage-inspired aberrations.

So, Cooke modified their top-of-the-line anamorphics with a new coating that dramatically boosted features of the image like flares and bokeh.

This new offshoot of the Cooke Anamorphic Primes is called SF, which stands for "Special Flare". These Cooke creations offer the same build as the Cooke anamorphics/i, but with a new, anamorphic-minded coating. The original Cooke Anamorphics blue streak lens flare has been rendered more expressive with the Special Flares lenses, elevating Cooke's bold look to a level of higher intensity. The bokeh has also been enhanced, as it's sharp-edged look has been turned oval by the additional sides added to the iris.

See for yourself the magnificent flares created by the SF anamorphic primes. The video below tests out a wide range of focal lengths to show the consistent, yet radiant flare rendition among the SF package:



Cooke's Special Flare Anamorphic lenses were designed to complement Cooke's other anamorphic primes and are manufactured in the focal lengths: 25mm, 32mm, 40mm, 50mm, 75mm, 100mm, 135mm, 180mm, and 300mm. Although the SF lenses can be thought of as special use lenses, they are color-balanced and color-matched with the other Cooke lens series, allowing easy integration into any production that's already chosen the Cooke Look. It is worth noting, however, that the Special Flares lenses are built with a slightly different squeeze factor of 1.8x, compared to the typical 2x of anamorphic. This modification was made presumably after Cooke designers found the frame should breathe more if heavier flares are introduced. Regardless, the SF and its predecessor lens have been mixed and matched on Hollywood productions without fault, as discussed further below.

Like all beloved anamorphics, these lenses are a comfortable combination of vintage and modern; the vintage being the distortive characteristics, anamorphic aspect ratio, and aberrations like lens flare—whereas the modern component involves the lenses build. These lenses are consistent among focal lengths and properly color-matched, but the most modern feature has to be Cooke's /i technology, a metadata system used to transfer lens data from the lens to compatible camera systems. Details logged through the /i system include focal length, aperture, focus, depth of field, and more in both feet and metric systems. This metadata speeds up the workflow of a shoot in both production and post, especially with respect to VFX-heavy projects. Some systems compatible with Cooke's /i technology include ARRI, Panavision, RED, Sony, and dozens other brand systems.

The Special Flare anamorphics can shoot S35 format with full coverage of the frame. For larger format, Cooke has another line of anamorphics called "Full Frame Plus". Most of the SF Anamorphic primes share a 110mm front diameter, which makes swapping filters between lenses easier without any need for a matte box. The SF primes were designed by Cooke for use in both digital and film formats; and are available in either a PL or LPL mount.

The Special Flares primes come with 270° of focus rotation to maximize focus pulling capability, which goes a long way for 2nd ACs shooting anamorphic. The lenses have a universal T-stop of T2.3, allowing excellent, consistent low light performance throughout the package. For instance, if you're shooting a closeup with the 135mm SF prime, then you switch to capture a medium with the 32mm prime, you can swap lenses with ease and avoid having to change the lighting setup for the camera. More importantly, this means you can stay at the same aperture between setups, giving you strict control over light flares.

These Cooke lenses with enhanced coating have already found their way into both movie theaters and living rooms. Some projects shot on Special Flares include Pete's Dragon, Swiss Army Man, and episodes of Star Trek: Picard. As the Lead Director of Photography of the Paramount+ series explains in-depth, the futuristic science fiction subgenre lends itself well to Special Flares' boosted response to light sources.

Interestingly enough, the SF series lenses aren't officially listed on Cooke's website. They can be found among rental houses online and in person. These lenses are in short supply, however, and might require some tracking down or winnowing down from your dream SF lens package.

As is the case with any Cooke lenses, the Special Flares anamorphic prime lenses are among the highest quality glass on the market and are priced accordingly. A single Cooke SF lens will run you anywhere from $32,000-$39,000, depending on the lens in question and where you look. Therefore, unless you're looking to build a personal collection worth half a million dollars, your production's best bet is to rent for more convenient prices.

Considering renting? Why not check out Bokeh Rentals' Special Flares Prime package!

Rent the Cooke Anamorphic SF Prime Lenses

Rent the Cooke Anamorphic Special Flares Prime Lenses from Bokeh Rentals

Contact us to customize a package to suit your production needs at low prices!