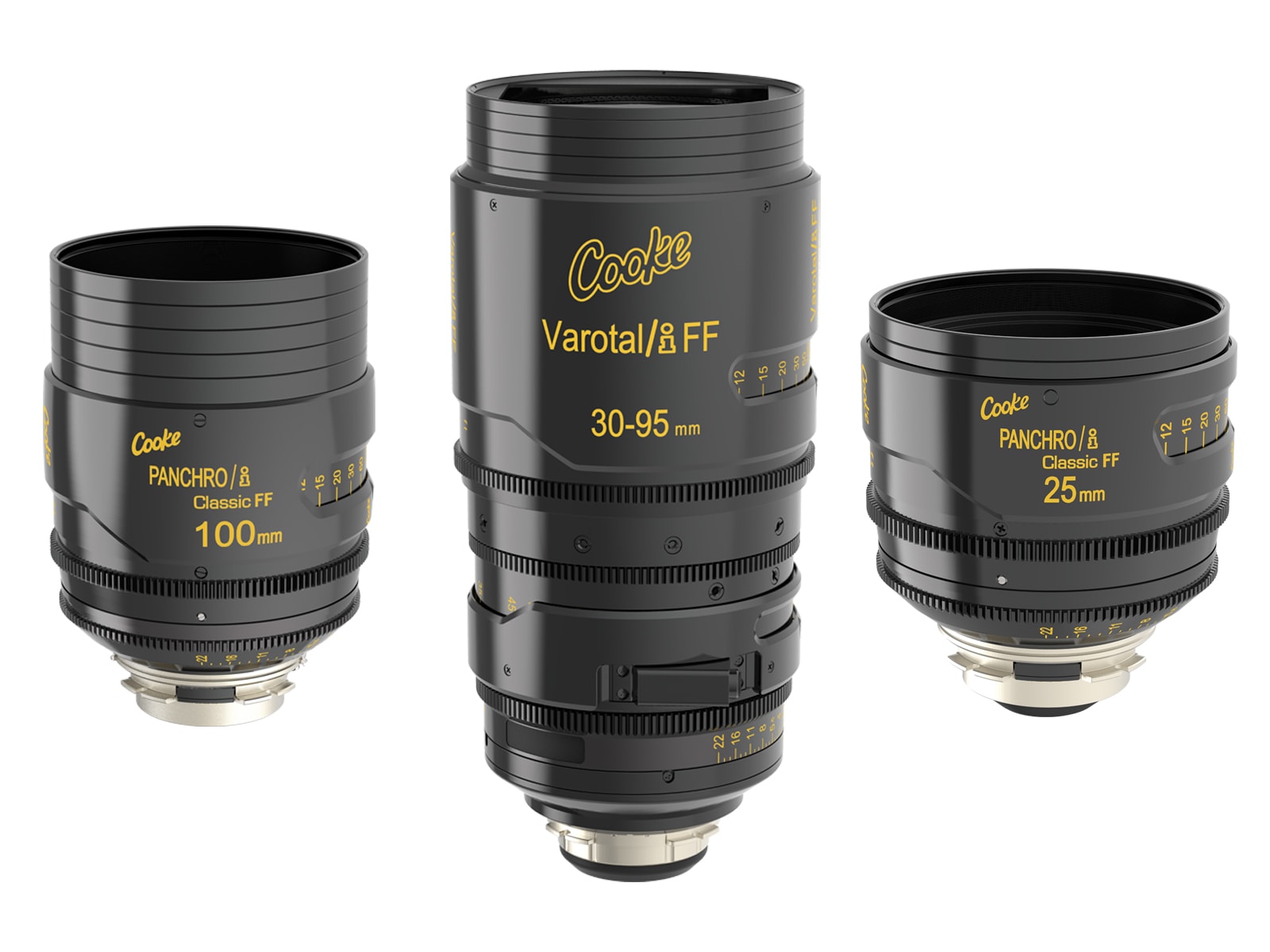 Cooke Varotal/i FF and Panchro/i FF Lenses
By Bokeh Rentals | December 14th, 2021


Cooke Optics has released modern, full-frame recreations of two legendary lens sets: the Varotal/i and Panchro/i. The original Varotal was first released in 1971, and the Panchro in 1921—giving these two lens package their vintage bona fides. The redesign process included taking the Varotal and Panchro's successful, vintage-era aesthetics and upping the technology for 2020s filmmaking standards. Most importantly, the Varotal/i and Panchro/i are full-frame, meaning their image circles can fit frame sizes up to Super 35.

When Cooke rehoused these lenses for new sensors, it also upgraded the exteriors for modern filmmaking. For example, the Varotal/i lenses have been rehoused in aluminum, with a scratch-resistant anodized finish for tough environmental conditions. Both Cooke's new Varotal and Panchro lenses are built for flexibility and consistency. The full-frame lenses are color matched, have matching falloff, and are built to the industry standard PL/LPL mounts. They are also equipped with /i Technology, an innovation only possible in the digital age of filmmaking. Cooke's /i Technology digitally captures lens data, frame-by-frame and synchronized to timecode while shooting. This includes focus readouts, T-stop, depth of field, shading and distortion mapping—data easily gathered in order to streamline the production processes. Although the /i Technology system is great for the VFX workflow, it can also come in handy for producers, ACs, and script supervisors to save valuable time on set. Cooke's Varotal/i lenses are zoom lenses that come in two sizes: 30-95mm and 85-215mm, both capable of T2.9. They are full-frame spherical lenses, available in either PL or LPL mounts, and have the same front diameter size of 114mm. Tim Pugh, CEO of Cooke Optics, said: "Fifty years after the launch of the first Varotal lenses, we are proud to bring these new Varotal zooms to our customers. They are now able to choose an entire color-matched Cooke line, complete with the Cooke Look, for their full-frame productions."



The Panchro/i lenses also shoot full-frame images, but among a variety of fixed focal length primes: 18mm, 21mm, 25mm, 27mm, 32mm, 40mm, 50mm, 75mm, 100mm, 135mm and 152mm. This involved the Cooke team redesigning the 18mm, 21mm, 27mm, 32mm, 35mm, 40mm, and 50mm lenses to fit full-frame image circles. The new Panchro lenses have a max aperture of F2.2, with the exception of the 100mm, which is limited to F2.6. Although Cooke has released lenses with faster exposures, the optics manufacturer chose to keep the aperture capabilities of the original lenses from a century ago. See, the Panchro lenses from the 1920s had the incredible ability to open as wide as F2.0, which gave Cooke a massive industry advantage as Hollywood shifted from silent films to talkies. Because quieter lights had to be used on set to allow the microphones to pick up the actors' dialogue; and since Cooke lenses needed less light than the competitors', the manufacturer had a head start in the new industry of spoken-dialogue films.

Although a sub-2.0 T-stop would've been possible for the Panchro redesign, Cooke chose to double down on its vintage design, and for good reason. The Cooke look has become a go-to preference among cinematographers. Its natural-yet-sharp look stands in contrast to the perfect exactness of most digital photography nowadays. Cooke's Varotal/i zooms and Panchro/i primes provide a warm colour palette, vibrant texture, beautiful skin tones; and it's this distinct, creamy-soft look that's put the lenses in such high demand. Ed Lachman, DP on Erin Brokovich, holds the Cooke look in high regard: "I admire their balanced colour and smooth contrast. They're sharp and give a real clarity, yet they are never brutal. They bring a consistent warmth to the colour which is natural and close to what the human eye sees."

By bringing vintage characteristics to the new Varotal and Panchro lenses, Cooke aims to maintain its century-long position at the center of the film industry. Demand is high for both sets of cinema lenses, but either could be acquired online from the manufacturer or through rental houses.

Rent the Cooke Varotal/i FF Zooms from Bokeh Rentals

Rent the Cooke Panchro/i FF Primes from Bokeh Rentals

Contact us to customize a package to suit your production needs at low prices!