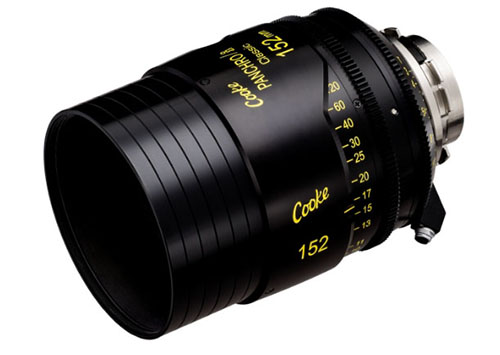 PANCHRO/i Classic Full Frame Lenses
By Bokeh Rentals | April 18th, 2022
PANCHRO/i Classic FF lenses revitalize the Speed Panchro look
Cooke Optics, the longest-standing pros in the cinema lens game, do way more than meet their consumers' demand. The "Cooke Look" has changed filmmaking, and the UK-based optical manufacturer even has an Academy Award to show as proof.

Since achieving wide success from its newer lens packages like the Cooke S4s or Cooke SF primes—Cooke has been bolstering its PANCHRO/i Classic FF lens lineup.

The PANCHRO/i Classic lenses aren't centered around any gimmicks, like aperture performance or enhanced flaring—but they're a redesign of Cooke's legendary Speed Panchro lenses from the 1920s.
History of Speed Panchro Cine Lens
The "Classic" in "PANCHRO/i Classic" refers to the legendary Speed Panchro lenses that Cooke debuted in the 1920s. These lenses were built with extraordinary sticking power, as they have experienced repeated uses throughout their century of existence. In fact, the original Speed Panchros have shot classic films of multiple generations, such as Casablanca in the '40s and The Sound of Music in the '60s.
Once digital cinema took over in the early '00s, the culture shifted towards sharper image rendition as digital cameras became more powerful in the early '00s. But, digital cinema soon hit a visual ceiling, and soon the "pixel perfect" quality of digital cameras needed an organic presence to its images, and vintage lenses quickly shot back in style. This resurgence has made the Speed Panchros as coveted as ever, and these original lenses—retained since their original build in 1927—were used on twenty-first century films such as Inherent Vice and Blue Jasmine, as their soft, painterly essence stood in bold contrast to the sterile, featureless quality of newer lenses.
Since the original Speed Panchros have become so popular, Cooke decided to make them more accessible by transforming the original optical design into the PANCHRO/i Classics, a series of full-frame lenses with modern-day housings. Now, users can recreate the creamy, vintage feel of the original Speed Panchros, but with twenty-first century conveniences.
Watch this PANCHRO/i Classic demo from Cooke
Cooke's PANCHRO/i Classic FF Lenses
A huge problem solved by Cooke's Classic lenses is that they are color-balanced and color-matched. For anyone using even a rehoused set of Speed Panchros, one lens might not match the other, and users may have to manually readjust the white balance for each shot, not to mention spend countless more hours in the coloring phase of post-production just to match footage. But, since the PANCHRO/i Classics are current, they are all colour-matched to one another, and colour matched with other Cooke len series, such as the Anamorphic Primes.
The new PANCHRO/i Classics are built in a sturdy, anodized aluminum housing that can stand the test of time. Cooke touts the edging tactics used to ensure "perfectly round" glass diameters. These newer lenses are more durable than the original Speed Panchros and they are equipped with the modern-day standard PL Mount or LPL mount.
Additionally, Cooke's new lenses utilize the manufacturer's new Metadata logging and transfer system, called /i Technology. Cooke's /i tech captures lens information such as focus distance, aperture, depth of field, hyperfocal distance, serial number, owner data, lens type, and focal length data, in both meters and feet. This metadata capture goes a long way in post-production, especially since the PANCHRO/i Classics log information each frame.
Because the PANCHRO/i Classic are only inspired by vintage lenses, they avoid the wild flares that vintage lenses normally produce. As Cooke puts it, these lenses "are designed to give maximum performance at full aperture with fine control of flare, distortion, and spherical aberration". Odds are, anyone choosing the Speed Panchros aren't doing it for the heavy flares—as there are
other Cooke lenses
that do it better, not to mention the anamorphic format as a whole. Most likely, these lenses are chosen for their ability to produce spectacular creamy images, first and foremost.
Another change Cooke added with this lens series is full-frame capability. The PANCHRO/i Classic lenses have an image circle of 46.31mm, far more than the original Speed Panchros.
Because these optics are taken from the Classical Hollywood era, they do not have the aperture capabilities of state of the art, digital-looking lenses. The Cooke FF PANCHRO/i Classics do not have a consistent maximum aperture. All lenses have a max aperture of T2.2, except for the 65mm Macro, 100mm, 135mm, and 152mm. This doesn't mean the lenses' looks aren't compatible; only that switching lenses won't be as easy as screwing them on and then off. This might require some work with ND filters if you're looking to closely match depths of field among lenses.
All Classics lenses have a common fixed front diameter of 110mm, making it easier to swap lenses when using filters. The FF PANCHRO/i Classics are an excellent package from Cooke, especially for anyone looking to produce breathtaking, vintage-inspired visuals without the downsides of using vintage lenses. A single lens costs around $13,000, so unless you're a rental house looking to boost its inventory, your best bet is most likely to rent.
Considering renting? Why not check out Bokeh Rentals' Cooke packages!

•Rent the Cooke PANCHRO/i Classic Lenses at Bokeh Rentals
Contact us to customize a package to suit your production needs at low prices!