ARRI ALEXA 35
ARRI
$2,495/Day
$7,485/Week
$24,950/Month
For over a decade the ARRI ALEXA camera family has set the gold standard for digital cinematography. Now, ALEXA 35 raises the bar even higher with a new Super 35 format 4.6K sensor and REVEAL Color Science.
ARRI'S LATEST SENSOR AND DIGITAL CAMERA REIMAGINED
ALEXA 35 is the smallest fully featured ARRI production camera ever, packing the features and processing power of a larger ALEXA into a Mini-sized body that can record native 4K at up to 120 fps. Fast and easy operation is assured through numerous usability improvements and a simple menu structure that will be intuitively familiar to crews. ALEXA 35 is the best A-camera, B-camera, and action camera on the market, all rolled into one.
ARRI Alexa 35
Sensor Type
Super 35 format ARRI ALEV 4 CMOS sensor with Bayer pattern color filter array
Sensor Maximum Number of
Photosites and Size
4608 x 3164
27.99 x 19.22 mm / 1.102x 0.757″
Ø 33.96 mm / 1.337″
Sensor Frame Rates
0.75 – 120 fps
Weight
∼2.9 kg / 6.4 lbs (camera body with three antennas and LPL Mount (LBUS))
Photosite Pitch
6.075 μm
Exposure Latitude
17 stops
Exposure Index
Adjustable from EI 160 – 6400 in 1/3 stops
Shutter
Electronic shutter, 5.0°- 356° or 1s – 1/8000s
Recording Formats
MXF/ARRIRAW
MXF/Apple ProRes 4444 XQ
MXF/Apple ProRes 4444
MXF/Apple ProRes 422 HQ
Recording Media
Codex Compact Drive 1TB (CA08-1024)
Codex Compact Drive 2TB (CB16-2048)
ViewFinder Type
Multi Viewfinder MVF-2 with 4″ flip-out monitor
Color Output
Rec 709
Rec 2020
Rec 2100 PQ
Rec 2100 HLG
LogC4
Custom Look (ARRI Look File ALF-4)
Look Control
Import of custom 3D LUT
ASC CDL parameters (slope, offset, power, saturation)
ARRI Look Library
ARRI Textures
White Balance
Manual and auto white balance, adjustable from 2000K to 11000K in 10K steps
Color correction adjustable range from -16 to +16 CC
1 CC corresponds to 035 Kodak CC values or 1/8 Rosco values
Filters
Four position built-in motorized ND filter: Clear, 0.6, 1.2, 1.8
Fixed optical low pass, UV, IR filter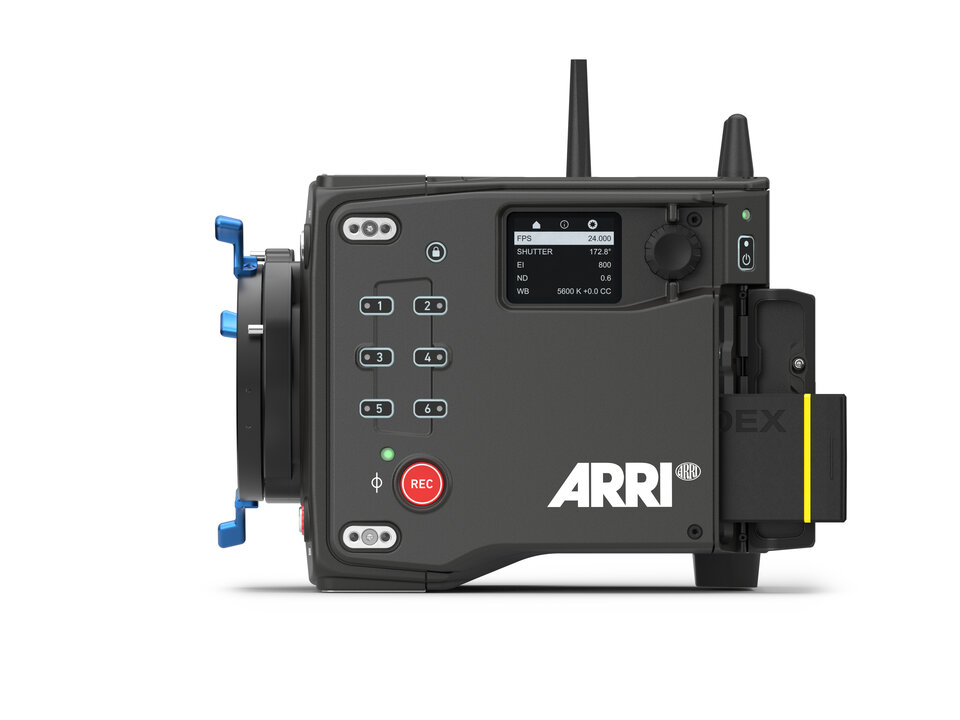 Feature Highlights:
2.5 more stops than previous ALEXA cameras, with filmic highlight roll-off
Easier to handle any lighting conditions, more flexible in post
The best possible source for HDR projects
Improved sensitivity: lower noise, higher ISO
EI 160 to EI 6400, with color accuracy maintained at all exposure levels
Enhanced Sensitivity option for even cleaner images in low light
Easy workflow with REVEAL Color Science
DON'T LET UNREASONABLE INSURANCE RATES STOP YOUR SHOOT
Get instant short term or annual policy insurance quote
Click here