ARRI Hi-5
Camera Accesories
$600/Day
$1,800/Week
$6,000/Month
The Hi-5 Hand Unit Basic Set from ARRI offers advanced wireless multi-axis camera and lens control via a large knob, instant reconnection, a high-contrast touchscreen LCD, powerful signal, and a modular, highly customizable design. Included with the set are the Hi-5 body, a Bluetooth dongle, a Smart focus ring, the RF-EMIP Radio Module 2400 MHz DSSS, two LBP-3500 battery packs, an LBP battery charger, a hand strap, a neck strap, and a screen protector.
WIRELESS COMPACT UNIT Hi-5.
Reliable partner for creavity
Features include hot-swapping battery support, optional radio modules for different regions, user-defined function buttons, pre-marked Smart focus rings, an integrated NATO rail, and a waterproof design to use in all-weather environments. Using the included Bluetooth dongle, the Hi-5 can be configured and updated using the ECS Sync app for iOS. It can also be used to update LBUS devices and configure the Hi-5. The included 2400 MHz radio module allows you to connect wirelessly with the RIA-1 radio interface adapter. It features 14 channels and is also backward compatible with white-coded radio EMIP modules.
| | ARRI Hi-5 |
| --- | --- |
| Features | Wireless Handheld FIZ Controller |
| | Multi-Axis Controller, Waterproof |
| | Hot-Swap Battery Modular Hardware |
| | 2400 MHz RF-EMIP Radio Module |
| | 3″ High-Contrast Touchscreen |
| | 100 Virtual Radio Channels |
| | |
| Useful Features | Instant Reconnection Time |
| | Vibration alerts with Haptic Feedback |
| | Integrated NATO Rai |
| | HandStrap, NeckStrap |
| | Vibrating markers |
| | |
| Compatibility | ALEXA MINI LF |
| | ALAEXA MINI |
| | AMIRA |
| | ALEXA Plus |
| | XT PLUS |
| | STUDIO |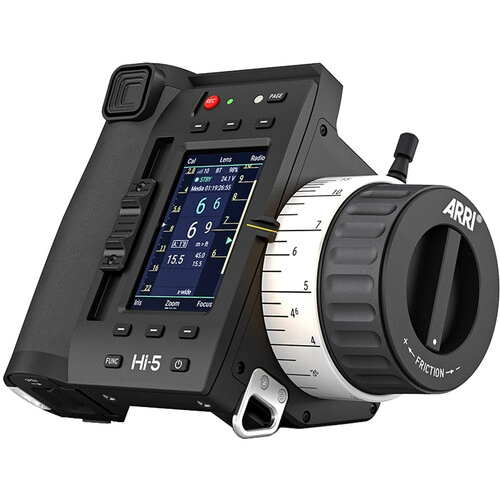 DON'T LET UNREASONABLE INSURANCE RATES STOP YOUR SHOOT
Get instant short term or annual policy insurance quote
Click here