TRIBE7 BLACKWING
Cinema Lenses
$1,850/Day
$5,550/Week
$18,500/Month
BLACKWING7 optics exhibit unique imaging properties which arise from the introduction of controlled distortion during the development and manufacturing processes. This distortion is modular and allows a level of tuneability over key parameters which shape many creative characteristics of the lenses.
Tribe Blackwing 20.7mm Lens T1.9
Tribe Blackwing 27mm Lens T1.9
Tribe Blackwing 37mm Lens T1.9
Tribe Blackwing 47mm Lens T1.9
Tribe Blackwing 57mm Lens T1.9
Tribe Blackwing 77mm Lens T1.9
Tribe Blackwing 137mm Lens T1.9
TUNABLE LARGE FORMAT CINE LENSES
The lens range comprises a core set of 7 focal lengths – with three tuning options per focal length, configurable at point of manufacture.
BLACKWING7 lens tuning allows parameters such as sharpness, contrast, roll-off, spherical aberration, field curvature, edge halation and flare to be modified to provide sets of "curated" optics to suit the personality and intent of the owner. Many of the design cues for BLACKWING7 primes originate in optics manufactured during the 1930 – 1960s, but the real inspiration behind the lenses lies in the evolutionary nature of experimental music and audio synthesis, and the process of creating distortion through sound amplification.
| | 27mm | 37mm | 47mm | 57mm | 77mm | 137mm |
| --- | --- | --- | --- | --- | --- | --- |
| Aperture | T1.9 TO T22 | T1.9 TO T22 | T1.9 TO T22 | T1.9 TO T22 | T1.9 TO T22 | T1.9 TO T22 |
| Image Circle | 55mm | 60mm | 60mm | 60mm | 60mm | 62mm |
| Close focus | 13″ / 34 cm | 18″ / 45.7 cm | 17.5″ / 44.5 cm | 19″ / 48.3 cm | 26″ / 66.0 cm | 32″ / 81.3 cm |
| Iris System | 14 blade | 14 blade | 14 blade | 14 blade | 14 blade | 14 blade |
| Lens Mount | PL | PL | PL | PL | PL | PL |
| Weight | 1.7 kg | 1.6 kg | 1.5 kg | 1.6 kg | 1.4 kg | 1.5 kg |
| | 3.6 lb | 3.4 lb | 3.2 | 3.4 lb | 3.0 lb | 3.2 lb |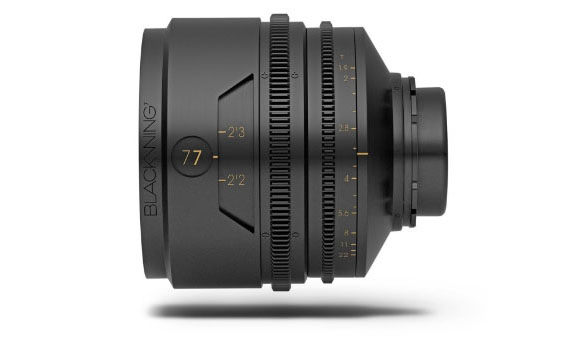 GEAR IN ACTION
More information on these special lenses below
DON'T LET UNREASONABLE INSURANCE RATES STOP YOUR SHOOT
Get instant short term or annual policy insurance quote
Click here