XELMUS APOLLO 2X FF ANAMORPHIC
Cinema Lenses
$900/Day
$2,700/Week
$9,000/Month
Developed as an affordable 2x anamorphic FF option, the Xelmus Apollo primes are compact, sharp, and lightweight. Primes have special coatings for cool, streaky anamorphic flare, 2x squeeze and a 2.39:1 aspect ratio. The Apollo primes are remarkably more affordable than FF anamorphics from competitors like Cooke and ARRI. Available in Los Angeles and Las Vegas.
Xelmus Apollo Anamorphic 32mm T2.0
Xelmus Apollo Anamorphic 40mm T2.0
Xelmus Apollo Anamorphic 50mm T1.7
Xelmus Apollo Anamorphic 60mm T1.6
Xelmus Apollo Anamorphic 75mm T2.0
Xelmus Apollo Anamorphic 100mm T2.3
Xelmus Apollo Anamorphic 135mm T2.8
AN AFFORDABLE SOLUTION FOR FULL-FRAME ANAMORPHIC
Less chromatic aberration, better light transmission– same trademark anamorphic flare
Achieving the coveted anamorphic look has become simpler with the Apollo anamorphic primes from Xelmus. Primes have an impressive close focus of 25mm and lenses have a common front diameter of 104mm (except 32mm, 40mm with 114mm). There's a 14-bladed iris for smooth flares. Visuals have less chromatic aberration and better light transmission than other anamorphic glass.
The Apollo primes have excellent mechanics. Light, compact, with NASA-themed red, white, black housing. Anti-mump system that restricts breathing to the vertical axis. Focus ring has a smooth 270° focal rotation. Although there isn't a universal aperture, there is an impressively low T-stop on each prime, ranging from T1.7-T2.8. Standard .8m gears for both focus and aperture.
| | 40mm | 50mm | 60mm | 75mm | 100mm | 135mm |
| --- | --- | --- | --- | --- | --- | --- |
| T-Stop | T2.1 | T1.7 | T1.7 | T2.0 | T2.5 | T2.8 |
| Angular Rotation of Iris Scale | 90° | 90° | 90° | 90° | 90° | 90° |
| Close Focus from Lens Front | 0.9 in | 0.9 in | 0.9 in | 0.9 in | 0.9in | 0.9 in |
| Angular Rotation to MOD Endstop | 270° | 270° | 270° | 270° | 270° | 270° |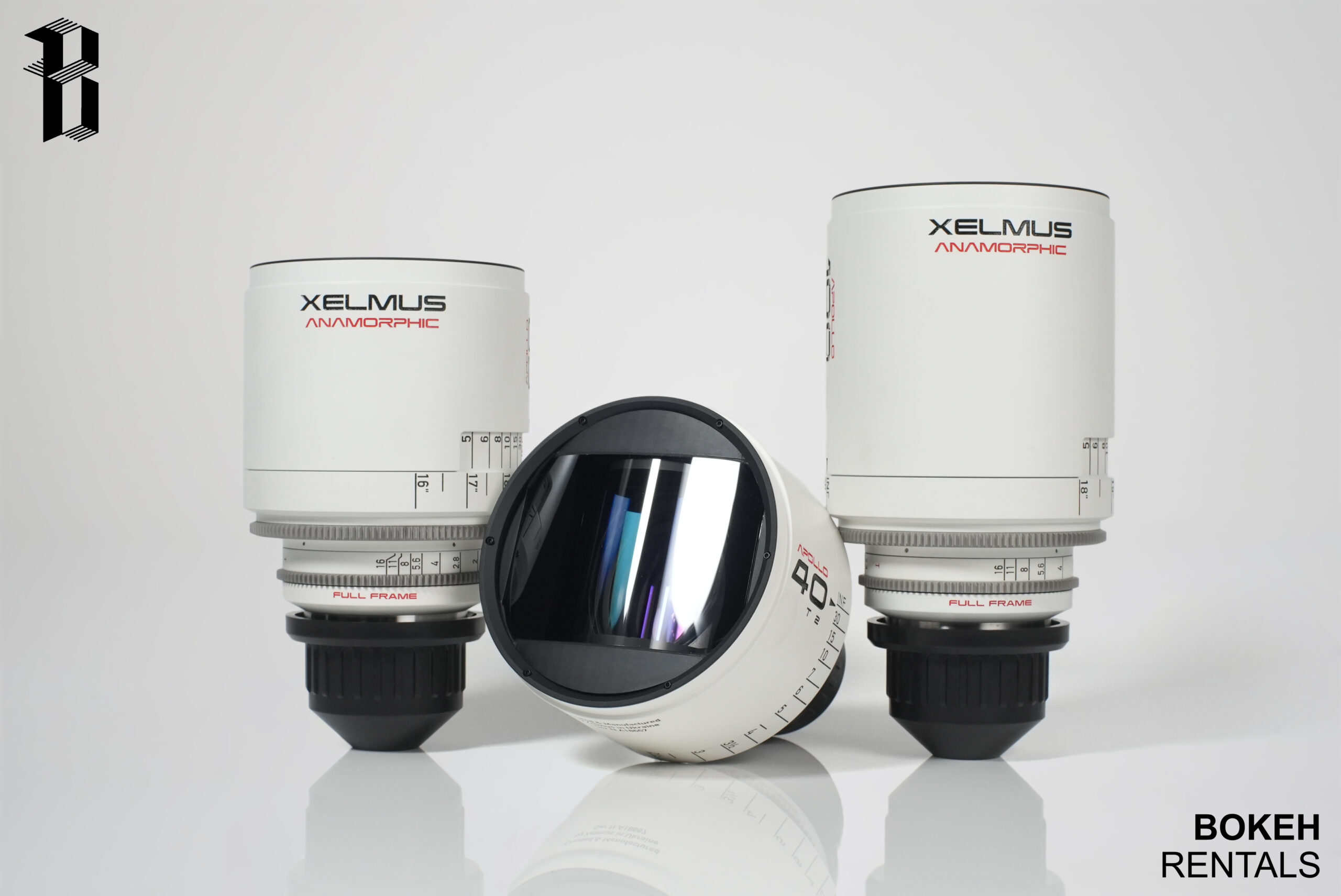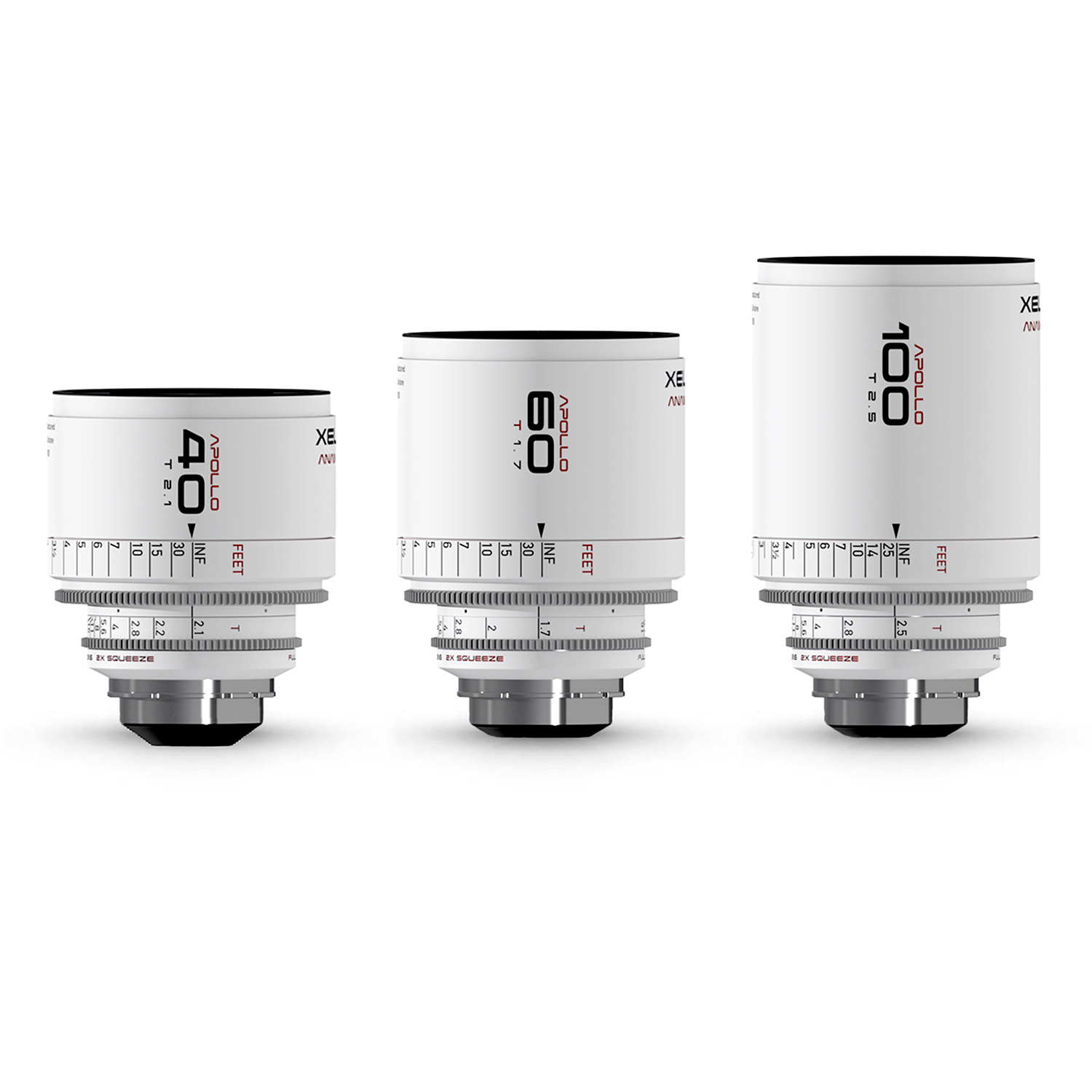 Feature Highlights:
Beautiful, controlled anamorphic flare

All Apollo primes compatible with Alexa LF Full-Frame Open Gate

Maximum T-stop ranges from T1.6 to T2.8

Most affordable full-frame, 2x anamorphic primes
XELMUS LENSES IN ACTION
More information on these special lenses below
DON'T LET UNREASONABLE INSURANCE RATES STOP YOUR SHOOT
Get instant short term or annual policy insurance quote
Click here