RED V-RAPTOR 8K
Cinema Cameras
$850/Day
$2,550/Week
$8,500/Month
The only Fully built out ready to shoot RED V-RAPTOR in the USA available to rent at Bokeh Rentals. Coming with an optional SMALLHD monitor and top handle. Drop in filter DSMC3 mount, A bod, custom anodized nato rails, rosette mounts, quad battery kit and a custom made innerspace case. Available for Rental in Los Angeles and Las Vegas
ALL-IN-ONE SYSTEM, SUITED FOR STUDIO CONFIGURATIONS AND HIGH-END PRODUCTIONS. INCLUDES INTERNAL ND FILTER, ADDITIONAL AUX POWER, INTERCHANGEABLE LENS MOUNT AND MORE..
Reliable partner for creativity
The only Fully built out ready to shoot RED V-RAPTOR in the USA available to rent at Bokeh Rentals. Coming with an optional SMALLHD monitor and top handle. Drop in filter DSMC3 mount, A bod, custom anodized nato rails, rosette mounts, quad battery kit and a custom made innerspace case.
Red Gemini DSMC2
SENSOR TYPE
V-RAPTOR™ 8K VV 35.4 Megapixel CMOS
EFFECTIVE PIXELS
8192 × 4320
SENSOR SIZE
40.96 mm x 21.60 mm (Diagonal: 46.31 mm)
DYNAMIC RANGE
17+ stops
MAX DATA RATES
Up to 800 MB/s using RED branded or other qualified CFexpress media cards[1]
WEIGHT
4.03 lbs (without body cap and CFexpress card)
OPERATING TEMPERATURE
0°C to 40°C (32°F to 104°F)
MONITOR OUTPUTS

Integrated dual 12G-SDI with 6G-SDI, 3G-SDI and 1.5G-SDI modes

12G-SDI: Up to 4096 x 2160 4:2:2 for 60p

6G-SDI: Up to 4096 x 2160 4:2:2 for 30p, 25p, 24p

3G-SDI: Up to 2048 x 1080 4:2:2 for 60p

1.5G-SDI: Up to 2048 x 1080 4:2:2 for 30p, 25p, 24p

SMPTE Timecode, HANC Metadata, 24-bit 48 kHz Audio

MAX FRAME RATES

120 fps at 8K 17:9 (8192 x 4320), 150 fps at 8K 2.4:1 (8192 x 3456)

140 fps at 7K 17:9 (7168 x 3780), 175 fps at 7K 2.4:1 (7168 x 3024)

160 fps at 6K 17:9 (6144 x 3240), 200 fps at 6K 2.4:1 (6144 x 2592)

192 fps at 5K 17:9 (5120 x 2700), 240 fps at 5K 2.4:1 (5120 x 2160)

240 fps at 4K 17:9 (4096 x 2160), 300 fps at 4K 2.4:1 (4096 x 1728)

320 fps at 3K 17:9 (3072 x 1620), 400 fps at 3K 2.4:1 (3072 x 1296)

480 fps at 2K 17:9 (2048 x 1080), 600 fps at 2K 2.4:1 (2048 x 864)

REDCODE RAW
ACQUISITION FORMATS

REDCODE HQ, MQ and LQ at 8K 17:9 (8192 x 4320) up to 60 fps

REDCODE LQ at 8K 17:9 (8192 x 4320) up to 120 fps

REDCODE HQ, MQ and LQ at 6K 17:9 (6144 x 3240) up to 96 fps

REDCODE MQ and LQ at 6K 17:9 (6144 x 3240) up to 160 fps

REDCODE HQ, MQ and LQ at 4K 17:9 (4096 x 2160) up to 240 fps

REDCODE HQ, MQ and LQ at 2K 17:9 (2048 x 1080) up to 480 fps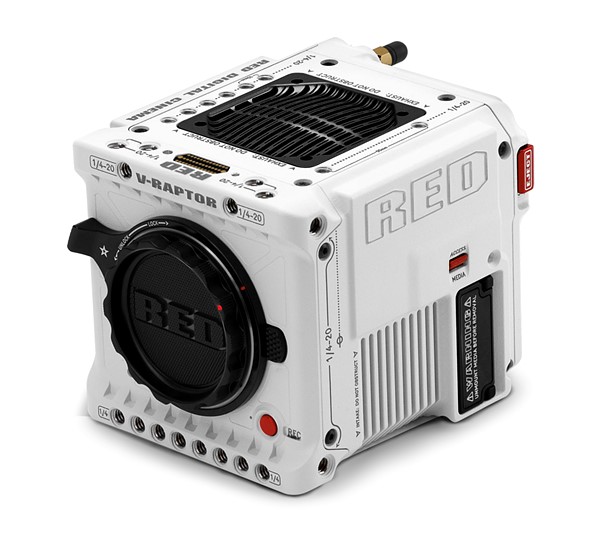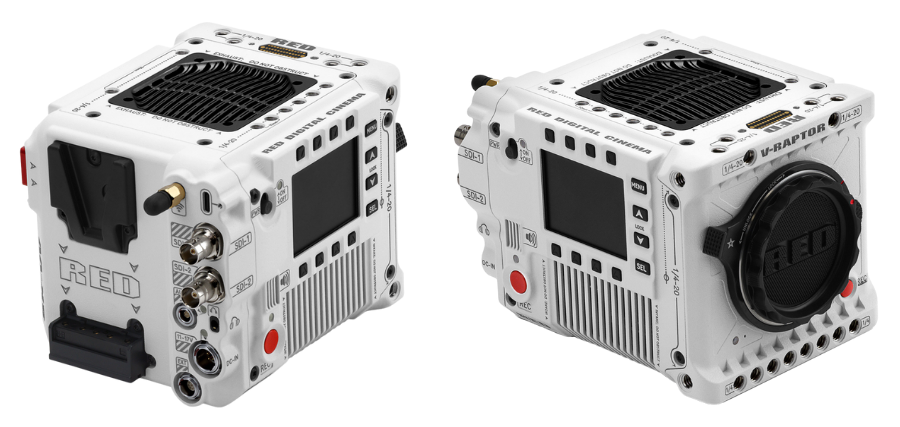 Feature Highlights:
35.4MP Full-Frame, Rolling Shutter CMOS
Lightweight & Compact DSMC3 Design
Canon RF Lens & CFastExpress Type-e Support
Upto 18K120 17:9, 6K198 S35 & 4K20 17:9
REDCODE RAW HQ, MQ & LQ Options
USB Type-C & Dual 12G SDI Port
MASTERPIECES RECORDED WITH THE RED RAPTOR
Check out our favorite movies filmed with these lenses
DON'T LET UNREASONABLE INSURANCE RATES STOP YOUR SHOOT
Get instant short term or annual policy insurance quote
Click here