ZEISS T2.1 CP.3 COMPACT PRIMES
Cinema Lenses
$300/Day
$900/Week
$3,000/Month
The look you define for a shoot deserves only the best quality. The ZEISS Compact Prime CP.3 and CP.3 XD lenses deliver it. Say hello to higher contrasts, richer blacks and more saturated colors. Say goodbye to unwelcome veiling glare and flares, thanks to advanced coatings, painted lens rims and light traps within the barrel.
18mm CP.3 T2.9
25mm CP.3 T2.1
35mm CP.3 T2.1
50mm CP.3 T2.1
85mm CP.3 T2.1
100m CP.3 T2.1
Challenging perspective
Easily handled.
Compact lenses are key when shooting in unusual or small spaces. The compact and lightweight design of the CP.3 and CP.3 XD lenses enables you to work in the most efficient way possible, no matter how challenging the set.
| | 18mm | 25mm | 35mm | 50mm | 85mm | 100mm |
| --- | --- | --- | --- | --- | --- | --- |
| Aperture | T2.9 | T2.1 | T2.1 | T2.1 | T2.1 | T2.1 |
| Close Focus | 0.3m | 0.26m | 0.3m | 0.45m | 0.1m | 0.7m |
| Front Diameter | 95mm | 95mm | 95mm | 95mm | 95mm | 95mm |
| Weight | 0.87kg | 0.84kg | 0.80kg | 0.77kg | 0.88kg | 1.01kg |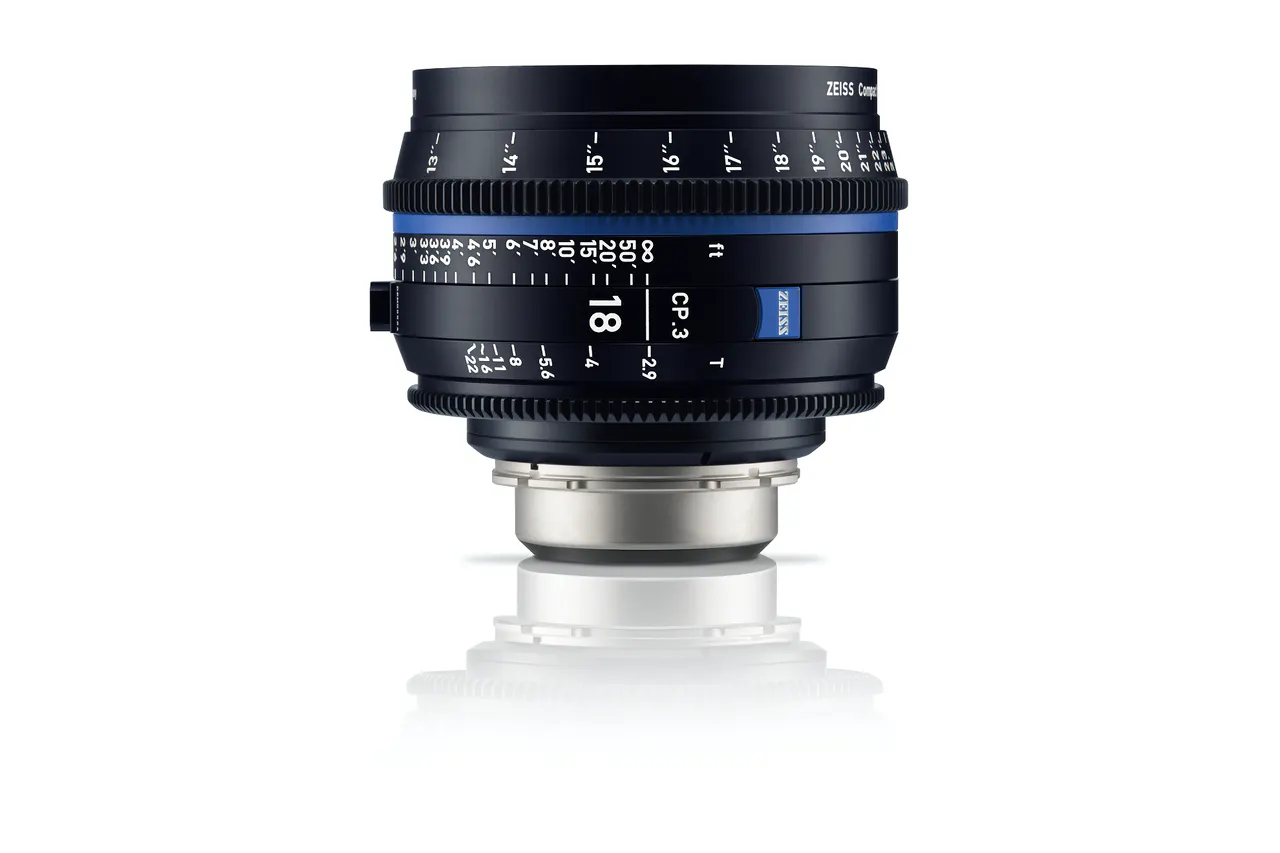 Feature Highlights:
Front to PL mount flange
Horizontal angle of view for a full-frame camera (aspect ratio 1:1.5, dimensions 36 mm x 24 mm / 1.42" x 0.94")
Horizontal angle of view for an APS-H camera (aspect ratio 1:1.81, dimensions 30.2 mm x 16.7 mm / 1.19" x 0.66")
Horizontal angle of view for an ANSI Super 35 Silent camera (aspect ratio 1:1.33, dimensions 24.9 mm x 18.7 mm / 0.98" x 0.74")
Horizontal angle of view for a Normal 35 Academy camera (aspect ratio 1:1.37, dimensions 22 mm x 16 mm / 0.87" x 0.63")
Horizontal angle of view for an APS-C camera (aspect ratio 1:1.50, dimensions 22.3 mm x 14.9 mm / 0.88" x 0.59")
DON'T LET UNREASONABLE INSURANCE RATES STOP YOUR SHOOT
Get instant short term or annual policy insurance quote
Click here