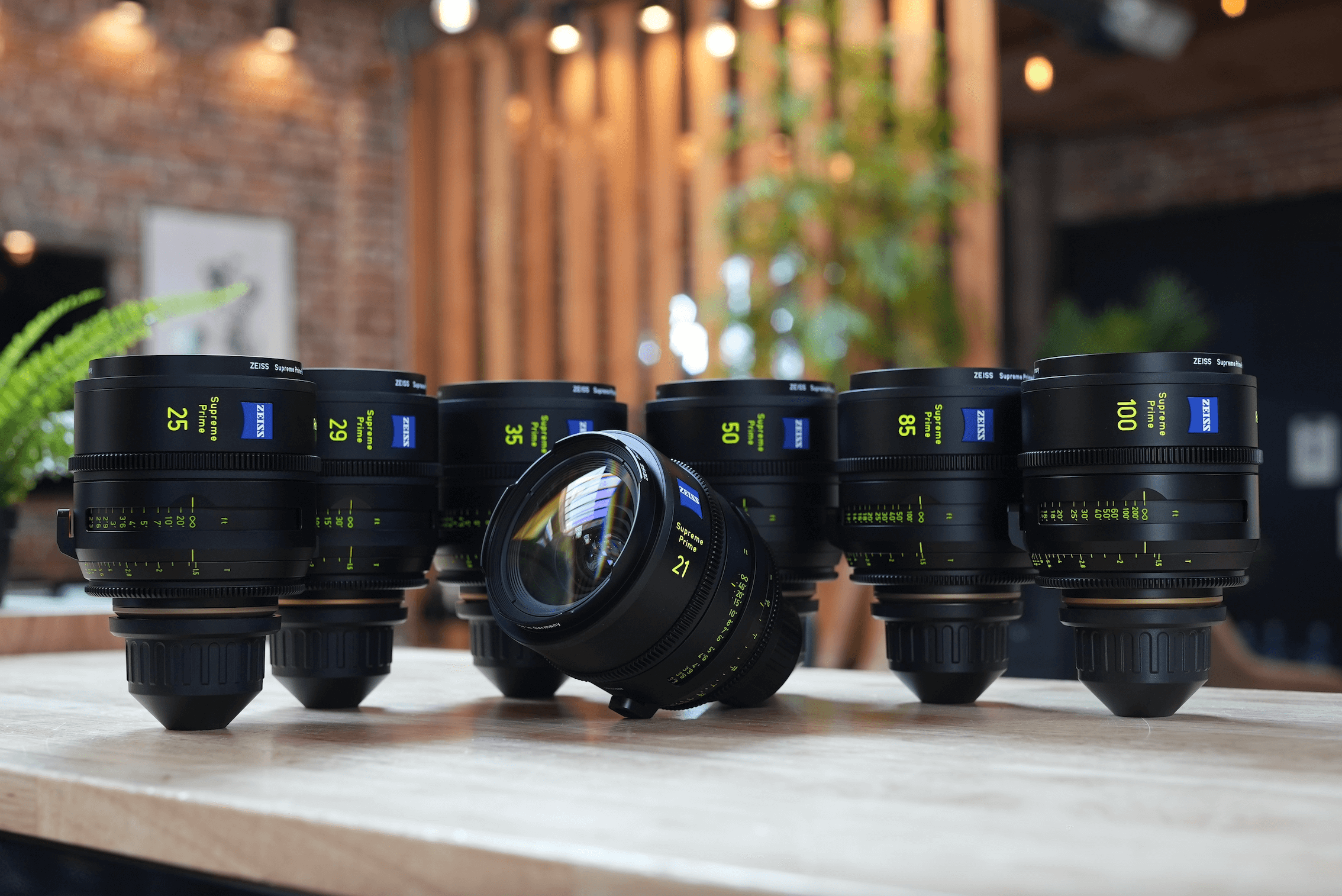 ZEISS SUPREME PRIME RADIANCE ADDS 4 NEW LENSES
By Bokeh Rentals | September 10th, 2021

ZEISS has made a name for itself among cinematic, large-format sensor lenses for its unrivaled technical consistency. Consistency is just a word, but on a professional set, where time-is-money on an eye-popping scale—consistency means tens of thousands saved between set-ups. 

The Supreme Prime Radiance seven-lens set was initially offered by ZEISS in 2019 as a warmer, more versatile variation to its Supreme Prime line, which debuted in 2018. Not only does the Radiance glass offer a warmer look for skin-tones, but it has also been constructed with a particular focus to increase artistic control over flares. In its post-release consultation with filmmakers, ZEISS grasped that spontaneous flares can present an element of chaos on-set, whether it be a cost-consuming delay or a happy accident in the frame. And with that in mind, engineers set out to grant DPs greater latitude over a low-light, flare-stricken image.

To create the Supreme Prime Radiance lenses, ZEISS carefully reworked its T* coating formulae, resulting in a superior coating that maintains contrast and avoids the transmission loss that could occur when capturing flares. As a result of that innovation, the ZEISS Supreme Prime Radiance family gives cinematographers ultimate versatility and control, especially in low-light situations.

https://www.youtube.com/embed/iR0tUN0k75s

The Supreme Prime Radiance lenses were initially released in late 2019, and its vintage-adjacent look has found much acclaim among cinematographers in various mediums.

Steve Yedlin, A.S.C, is known for merging the digital and analog; working to find a naturalistic, even film-emulating aesthetic using digitally captured images. He's written extensively about the existential challenge facing the film-look; and perhaps this passion for the authentic is why he's employed ZEISS Supreme Prime Radiance Lenses on the sequel to 2019's mystery-comedy, Knives Out, which you can see from the production's viral press

photo. 

As far as its look, the Supreme Prime Radiance lens has a remarkably smooth transition between in-focus and out-of-focus planes, which provides depth and gentle sharpness to the frame. The Supreme Prime Radiance look renders a wholesome digital image without the unnerving exactness of some digital photography. Effectively, the Supreme Prime Radiance lens' sharpness and soft fall-off is reminiscent of vintage lenses, and DPs have caught on quick. 

On the small screen, Emmy award-winning Dana Gonzales, A.S.C., found the ZEISS Supreme Prime Radiance family perfect for capturing the 1950s-period look of Season Four of FX's Fargo. Even under the stress of a fast-paced television schedule, Gonzales was impressed by the lens' focus and flare capabilities: "I use quite a bit of diffusion, but they are still very sharp with a soft fall-off, reminiscent of vintage lenses. I always embrace them and I love the organic way the Radiance captures them. The flares always feel right and not forced.".

The Supreme Prime Radiance set was released in 2019 in seven focal lengths: 21mm, 25mm, 29mm, 35mm, 50mm, 85mm, and 100mm. But after its warm reception over the past two years, ZEISS extended the line to fill in the gaps and expand the outer bounds with

four new focal lengths: 18mm, 40mm, 65mm and 135mm. 

For cinematographers, new lens lengths presents more creative freedom under the Supreme Prime Radiance banner. Because every lens in the series can hit T1.5—switching between lenses quickly is a strong point. Even the new 135mm telephoto option can open to T1.5, defying the technological odds to maintain consistency among the Radiance family. Should a lens be swapped out to reframe or readjust, there's no need to recalibrate exposure for any in-frame flares. Even when punching in from an 18mm wide to a 135mm closeup on Supreme Prime Radiance glass, the exposure remains consistent and the flares in control. 

The ZEISS Supreme Prime Radiance lenses, like its Supreme predecessor, incorporate an interchangeable mount system that allows efficiently shifting from a PL-mount to LPL-mount or EF-mount. For the short term, this capability allows quickly adjusting mounting systems on set without losing any VFX-crucial metadata. For the long-term, the accommodating mount system allows ZEISS lenses to remain functional inside the rapidly-evolving cinema camera market, where quickly-released products can go obsolete fast. Similarly, ZEISS Supreme Prime Radiance lenses are built for large-format sensors, so they can bring their elegant-bokeh, exceptional rich texture, and warm, low-light performance into future camera systems.

Although the 18mm, 40mm, 65mm and 135mm focal lengths will be available in Q3 2021, the Supreme Prime Radiance's seven original sizes are available for rental at Bokeh Rentals.

Bokeh Rentals' ZEISS Supreme Prime Radiance Set - $2,495/Day, $7,485/Week, $24,950/Month

Contact us to customize a package to suit your production needs at low prices.