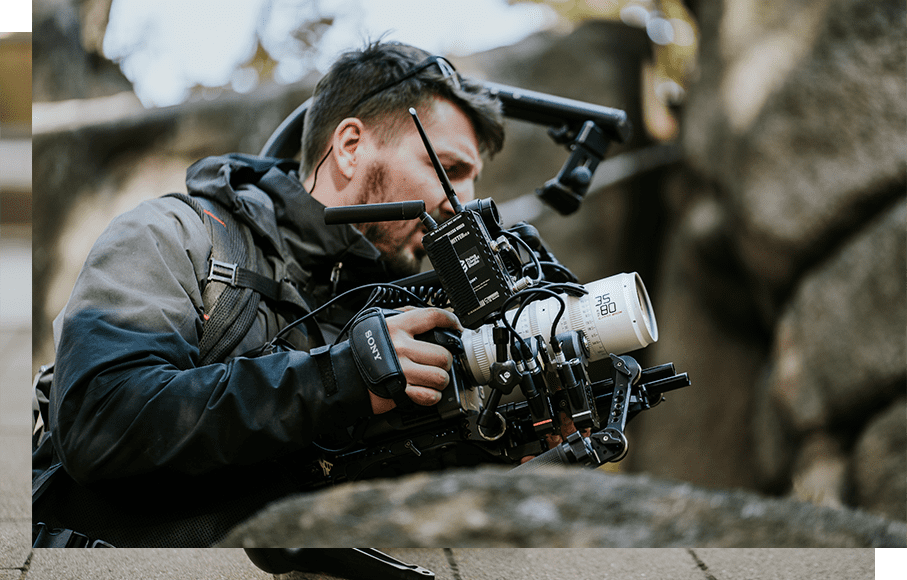 DZOFilm Makes Full-Frame Glass Affordable
By Bokeh Rentals | December 21st, 2021

DZOFilm has a reputation for selling affordable lenses that can produce gorgeous, cinema quality at a fraction of its competitors' prices. Their gear may not stand quite at the pinnacle alongside Zeiss and Leitz, but it's close—and far less pricy.

Here are three DZO creations that operate at a much lower price point and still handle full-frame shooting: DZOFilm Vespid Cine Primes 25mm, 35mm, 50mm, 75mm, 100mm, 125mm (w/ 90mm macro)

The Vespid Primes are the most comparable to DZOFilm's "top of the line" competitors because of their PL mount and remarkable 46.5mm image circle. This is the paramount design feature of the Vespids, and it allows real, full-frame filmmaking. The soft rendering of skin, neutral color and coated optics give the Vespids an organic look that sits between the clean look of modern day digital and the soft, analog aesthetic of vintage cinema lenses. There's a healthy, natural-looking contrast that still does a sufficient job handling glare and specular highlights. This balanced look continues to bokeh, which is shaped by the 16-bladed iris into unpronounced circles.

The Vespid primes are named after a specific family of wasp for their light weight and agility. And the comparison holds, as these lenses are lightweight, compact, and faster than their variable-zoom counterparts.

This set comes with a 25mm, 35mm, 50mm, 75mm, 100mm, 125mm and sometimes with a 90mm macro lens. The 7 lenses are built with the consistency of a solid lens package, which comes at much convenience to the user. All lenses have the same aperture capabilities, an impressive T2.1 to T22. The swapping of lenses—standard for any prime set—is made easier by the consistent sizes and weights.

Each lens has an 80mm front filter with a matching 77mm thread, so you can simply transfer one filter to another when changing out focal lengths. There is also a magnetic rear filter holder in all seven lens sizes.

The Vespids have focus readings in both imperial and metric units. With smooth internal mechanics, the lenses all have 270° rotation of the focus knob, except for the 90mm macro lens, which has a generous 300°, for accurate focus pulling. The 6-lens package runs about $7,500 and a 7-lens bundle (including the 90mm macro) for $8,700. The macro can be considered more of a specialty lens and might not be necessary for all productions.

DZOFilm Catta Cine Zooms

35-80mm, 70-135mm

DZO also manufacturers its own lines of zoom lenses that balance advanced features and shooting demands with affordability. Since the dawn of mirrorless cameras, demand for full-frame cinema zooms has grown massively, and DZO hopes to satisfy that market demand with the Cattas' 43.5mm image circle.

The set includes a 35-80mm and 70-135mm zoom lens, both stretching T2.9-T22. Between the two pieces, shooters can get from a wide 35mm to a tight 135mm, without the labor of switching lenses each shot (as one would with the Vespids). Like the Vespid primes, the two Catta zooms also have 270° focus rotation and rear filter holder.

Besides being both full-frame-capable and relatively affordable, the DZO Catta Zooms have the advantage when it comes to its small form factor.

See, these lenses were designed specifically for cameras with short flange-distances, such as the Sony Alpha line and RED V-RAPTOR. As such, the Catta zooms have an E mount (E/L/RF/X/Z mounts)—and not the widely sweeping PL mount. This means that although the Cattas are in fact full-frame glass, they are not specifically built for the higher-end PL camera bodies like the ALEXA AMIRA or RED RANGER. Be sure to double check lens compatibility and research any lens adapters that may be needed, especially when dealing with the Cattas' toolless interchangeable mount design.

The Cattas produce gorgeous, naturalistic imagery with a uniquely pleasing flare—satisfying, but not quite with the loudness of a vintage lens. DZOFilm puts the Catta's beautiful flare and physical versatility to the test in the demo video below:



The DZOFilm Catta Zoom lenses are available in both black and white models for roughly $3,099 each, depending on the retailer.

DZO Pictor Cine Zooms

20-55mm, 50-125mm

The Pictor cine zooms have similar priorities to the other DZOFilm lenses: full-frame shooting, consistent front diameter sizes (95mm), and lightweight form factor. In fact, the comfortable weight and wide focal ranges of this two-lens set makes it perfect for run-and-gun shooting scenarios. As a bonus, the lenses are nearly identical lengths, so swapping them out on a matte box or handheld rig should be considerably less trouble than, say, swapping out primes.

As far as versatility goes, the 20-55mm and 50-125mm Pictor zoom lenses have great breathing performance that work well with the smooth 270° focal rotation. Because of these mechanical advantages, however, the Pictor zooms are somewhat slower at T2.8-22.

The Pictor lenses have a 31.1 image circle, which is full-frame, but may require additional research depending on the body and shooting mode. For example, shooting 5K on the RED GEMINI requires a larger image circle than what the DZO Pictor provides, so you may have to crop in post-production or shoot at a lower resolution.

While the Pictors have a somewhat smaller image circle, they do come with both a PL and EF mount, giving them a wide range of uses, from Sony A7s to ALEXA cinema cameras. Also, the DZOFilm Pictors have an interchangeable mount that allow you to switch lens mounts at any given time, opposed to other lenses that may require a professional.

For productions on a budget, DZOFilm manufacturers marvelous, low-cost lenses that stand a chance against its higher-priced competitors.

Contact us to customize a package to suit your production needs at low prices!