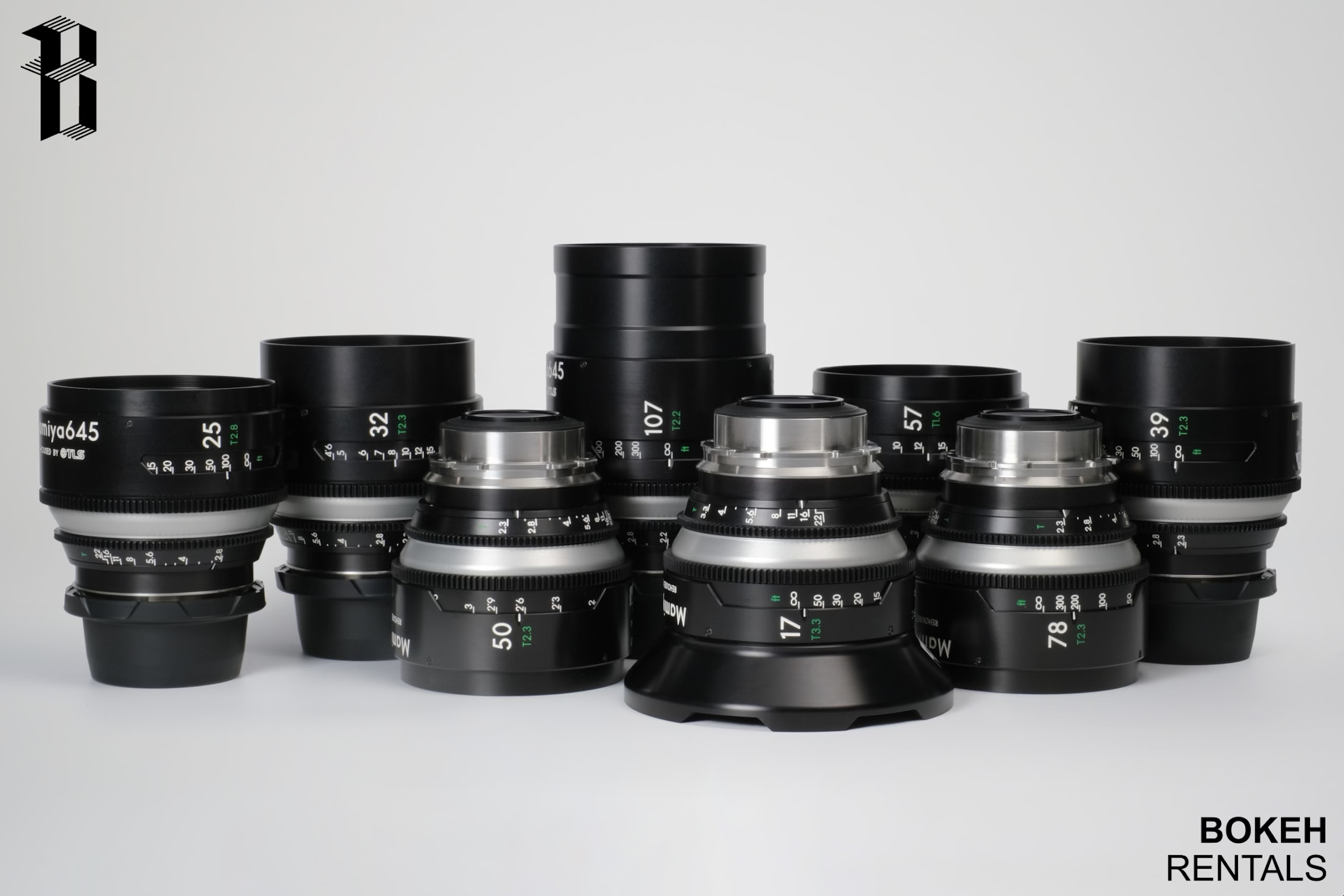 Mamiya 645 Primes | Newly Rehoused by TLS
By Matthew Fresolone | October 5th, 2023
INTRODUCTION
Through all the horseracing about the newest glass for high-end digital cinema cameras, it's easy to forget about the more expressive lenses out there.

There may be the Angenieux EZ-3 Cinema Zooms and the Hawk V-Lites—but then there's the rehoused primes of the Mamiya 645 stills camera.

Gentle, dreamier optics with the latitude to handle verité or studio scenarios—the Mamiya 645 primes


WHAT IS THE MAMIYA 645
Bokeh Rentals' new Mamiya lenses originated from the Mamiya 645, a medium format stills camera with an elegant, softer optical style.

The original Mamiya 645 film camera is used for both studio photography and street photography. It has the latitude capable of handling natural light environments, such as the diner portraits in the video below. But, when taken into a studio for photography with models, its softer optics lend a dreamier, loose aesthetic to more orchestrated setups.

Check out the video below to see the Mamiya 645 lenses in action with its original camera body.

Because of the Mamiya's unique imagery, the technicians at England's True Lens Service rehoused and retooled the primes for modern digital filmmaking. Not only were optics preserved, but lens mechanics were improved across the board.


---
Upgraded, Rehoused Primes
LPL Mount
Third party adapters exist to use the Mamiya lenses on Nikon F-mount, Canon EF mount, and other camera systems. And they're not particularly expensive. But, using third party adapters can carry the risk of not perfectly preserving the optics and all functionality.
So, TLS technicians elected to convert the Mamiya lenses to the LPL mount, the newest universal lens for digital capture.
In addition to compatibility with top digital cinema cameras like the ARRI ALEXA, the LPL mount allows lens data to transfer using the LDS-2 system by ARRI.
Speed Booster
True Lens Service installed a new circular iris with a built-in speed booster. Now that the Mamiyas have a speed booster built inside the housing, each lens is now slightly wider. For example, once retooled by TLS, the Mamiya 110mm prime has become a 77mm that can cover full-frame sensors. Other lens modifications include the 38mm (originally 56mm) and the 56mm (originally 80mm).
An added benefit to the internalized speed booster is that each rehoused lens is now a stop faster.
TLS also offers a PL mount option without the speed booster, for those who prefer the original focal lengths.
Rehousing
The Mamiya primes' rehousing features a cam-driven focus system and chassis style lens that allows accessories to be attached to the lens. This enables the use of tools like matte boxes and follow focuses. Additionally, the exterior is outfitted with accurate markings and precision mechanics.
The new, rehoused exterior is lightweight and durable with its aluminum alloy, stainless steel, and brass composition.
---
THE BOTTOM LINE
The Mamiya 645 primes, newly rehoused by TLS, bring a beautiful, previously-analog image to digital filmmaking.
Check out Bokeh Rentals' inventory to bring the unique, soft imagery of the Mamiya 645's to your next production.
---
Considering renting? Why not check out Bokeh Rentals equipment packages!
•Rent The Rehoused Mamiya 645 Primes at Bokeh Rentals
•Rent The Angenieux EZ-3 Convertible S35 and Full-Frame/VistaVision Zoom Lens at Bokeh Rentals
Contact us to customize a package to suit your production needs at low prices!