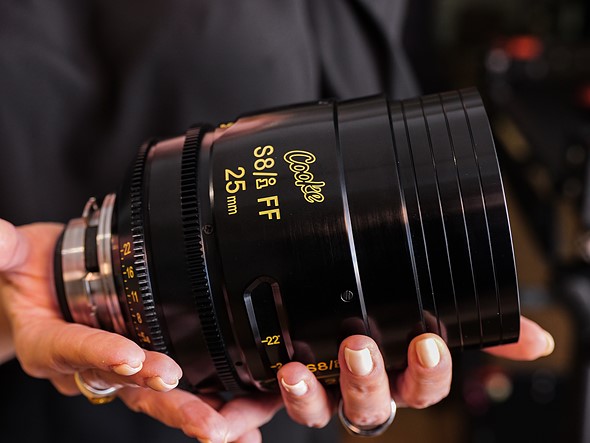 Cooke S8/i T1.4 Full Frame Primes
By Bokeh Rentals | March 22nd, 2022


Cooke Optics has long been regarded the premier manufacturer of professional-grade cinema lenses. With the announcement of Cooke's newest line of cinema primes, a new standard altogether has been set for super-fast full frame lenses—while incorporating its open protocol /i technology.

Last week, Cooke released a specially made video to announce its new line of S8/i FF primes:


Cooke S8 Lens Launch from Cooke Optics on Vimeo.
These state-of-the-art lenses are built with a maximum aperture of T1.4 across the entirety of its sixteen focal lengths. More importantly, however, is that all lenses are capable of shooting full frame formats. The new S8/i line is comprised of sixteen different cinema primes, ranging from 18mm to 350mm. Full Frame and T1.4 across sixteen lenses—with no exceptions. It may be worth noting that the unreleased 18mm and pre-orderable 25mm contain 43.4mm image circles, which are still full frame-capable, but the remaining fourteen lenses all have image circles of 46.3mm.
The image quality from the S8/i FFs is immaculate—which should come as no surprise since "the Cooke Look" is burnished in film history. In fact, the optics manufacturer recently received an Award of Merit by the Academy of Motion Pictures Arts and Sciences for having "helped define the
look of motion pictures
over the last century".
Therefore, this new lens series is successfully continuing Cooke's spectacular run. Check out the demo footage below, captured by Bill Bennet, ASC, and Kees van Oostrum, ASC, in the Mojave Desert. Cooke notes that all shots were taken at T1.4 to demonstrate the exquisite quality of the lenses at their widest aperture:
Cooke S8 Desert Demo from Cooke Optics on Vimeo.
As you can see, the Cooke S8/i FF primes produce a beautifully clean image with smooth, clean bokeh. Aberration and distortions exist, but just enough to send its look beyond a sterile, digital aesthetic. These lenses don't need to lean on cursory vintage artifacts to give its images character, as you can tell by the gorgeous colors produced in the above "Desert Demo". Cooke describes the result of its all-spherical lenses as "a uniquely organic, film-like quality… characterised by smooth, spherical bokeh and minimal colour fringing".
Of course, these Cooke S8/i lenses are superb pieces of technology, but if you're looking for a performatively vintage look, there are plenty of on-lens filters and postproduction processes to get you there.
The Cooke S8/i series is to contain 16 full frame T1.4 lenses by the end of the year. The first seven lenses in the series, available for pre-order now, come in the following focal lengths: 25mm, 32mm, 40mm, 50mm, 75mm, 100mm, and 135mm. By late 2022, nine more focal lengths will be added to the S8/i lineup: the 18mm, 21mm, 27mm, 35mm, 65mm, 85mm (macro), 180mm, 250mm and 350mm.
All the S8/i primes are available in either PL or LPL mount, the standard for cinema cameras. For mounting to cameras with other sensors, such as Sony's E-mount or Canon's EF mount, adapters can be employed. Although the full specs on all sixteen high speed, full frame primes haven't been released yet, we know the complete specs for the first seven lenses—and they point towards a state-of-the-art lens package built for convenience and consistency. Each focal length prime has a common fixed diameter of 104mm, enabling users to swap filters without needing different sizes or use of a matte box. Similarly, the angular rotation of the iris scale is fixed at 90° for every lens, and the aperture remains consistent throughout the package. Additionally, all the lenses are color-balanced and color-matched, which is a monumental accomplishment for such an extensive series of lenses.
Just like Cooke's earlier line of
Varotal Zoom /Panchro cinema primes
—the S8/i lenses utilize Cooke's metadata technology, referred to as "/i". Cooke's /i system digitally captures camera information to streamline the post-production process. This metadata, which requires a wired connection to access, is captured frame-by-frame and synchronized to timecode during recording. The /i Technology's handling of depth of field, shading and distortion mapping are useful for VFX workflow—and the camera information can also come in handy for producers, ACs, and script supervisors to save valuable time on set.
Cooke's new S8/i lenses are housed in a hard, anodized finish. Its form factor is compact, lightweight, and scratch-resistant to handle a long lifetime in fast-paced production circumstances of varying environments. These lenses are built to last a long, long time; and it could be a while until any optical competitor produces a series of full frame spherical primes as fast as Cooke's new T1.4 S8/I package.
Cooke Optics' new S8/i 1.4 FF primes might be the nicest lenses on the market, judging by the early impressions online. As the newest, highest-quality glass out there, these lenses come at quite the cost. The seven lenses for pre-order cost about
$35,000 each
, and prices for the remaining nine focal lengths are expected to be similar.
Therefore, anyone looking to put these state-of-the-art primes to use on their production should consider renting them out from Bokeh Rentals:
Rent the Cooke S8/i T1.4 Full Frame Primes
Rent the Cooke S8/i T1.4 FF Primes from Bokeh Rentals
Contact us to customize a package to suit your production needs at low prices!