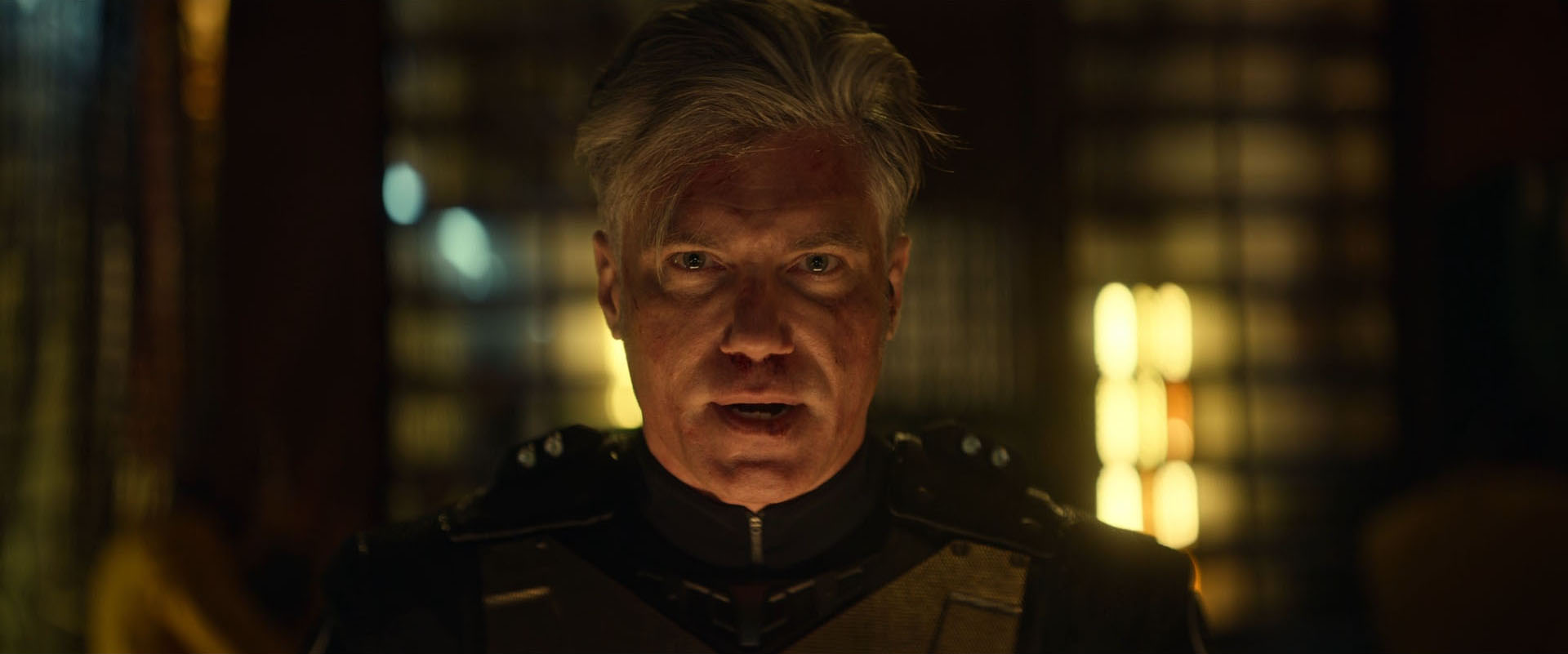 How Star Trek: Strange New Worlds Used Cooke Anamorphic FF+ SF Primes
By Matthew Fresolone | January 3rd, 2023
Although full frame anamorphic is typically reserved for the theatrical filmmaking, they've found a fascinating new application on Paramount+.
For those who don't know,
Star Trek: Strange New Worlds
is a spin-off of CBS All Access'
Star Trek: Discovery
. Anson Mount will be reprising his role as Captain Christopher Pike, leading the starship USS Enterprise along new explorations throughout our galaxy. The Paramount+ show also serves as a prequel to
Star Trek: The Original Series
, taking place in the decade prior.
Star Trek: Strange New Worlds
premiered on Paramount+ on May 2022 and was quickly renewed for a second season, which is currently in post-production and expected on Paramount+ later this year.
| | | |
| --- | --- | --- |
| | | |
| | The Cooke 1.8x Anamorphic FF+ SF Primes are available to rent at Bokeh Rentals. | |
---
THE COOKE LOOK
The show is the eighth Star Trek series to date; and the crew sought to update the look. Cinematographer Glen Keenan, CSC shot the first two episodes of the show, during which he helped create its look. The show is somewhat groundbreaking on a visual level, as it's a streaming show shot in anamorphic full frame. The Cooke lenses employed are capable of recreating the signature Star Trek blue streak flare without the reliance on VFX to composite in artificial flares. This use of anamorphic lenses is somewhat precedented, as cinematographer Dan Mindel used Panavision Primo Anamorphic lenses to create vivid, sci-fi flares in the 2009 film adaptation of Star Trek.
Despite the sci-fi glamour of immersive LEDs interiors and far-out landscapes, the Cooke Anamorphic Primes work to ground the material with an organic look that update the Star Trek franchise.
Star Trek: Strange New Worlds uses the Cooke Anamorphic/i primes with extensive LEDs to create a grounded science fiction feel.
The anamorphic full frame look is not altogether new for Star Trek television, however. Keenan, who was also the cinematographer on
Star Trek: Discovery
, helped usher in the use of anamorphic on the show's later seasons. He told
Pro Video Coalition
: "Season two of
Disco
was our move to anamorphic primes [for 2:39:1 for streaming] and that won me over. For Star Trek, there's a studio, but no reality. I want to convince the audience that we are in a real space with a lens that would add more organic qualities to the image. The Cooke anamorphic special flares have the right amount of aberrations and flare for the signature Star Trek blue streak flare. Two things really help with reality: the unexpected inconsistencies between lenses help to ground the story like we were really there and the anamorphic falloff. Both of those features help to deliberately frame the action where I want the audience to focus on".
---
THE COOKE LENSES
Star Trek: Strange New Worlds
 is more like the original series in that each episode has its own story—largely disconnected from the others. As a result, the episodes were shot out of sequence, with Keenan and cinematographer Magdalena Gôrka each shooting half the first season's episodes.
Star Trek: Strange New Worlds
has three sets of Anamorphic /I Full Frame Plus Special Flare lenses comprised of the following focal lengths: 32mm, 40mm, 50mm, 75mm, 85mm Macro, 100mm and 135mm. Three sets were used in order to accommodate multi-camera shooting. Although not always used simultaneously, Keenan and Gôrka had three ARRI ALEXA LF and four ARRI ALEXA Mini LF cameras at their disposal.
Keenan said of the package, "During episode seven, I discovered the macro on the 85mm for close-up work… It became our favorite close-up lens as it's just lovely with great falloff. Our main lens was the 40mm which can be seen in every episode and then the 75mm for our Steadicam, where the full frame anamorphic allows me to have a great focal range. Steadicam helps tell the story well and gives you a nice shot that you don't have to edit."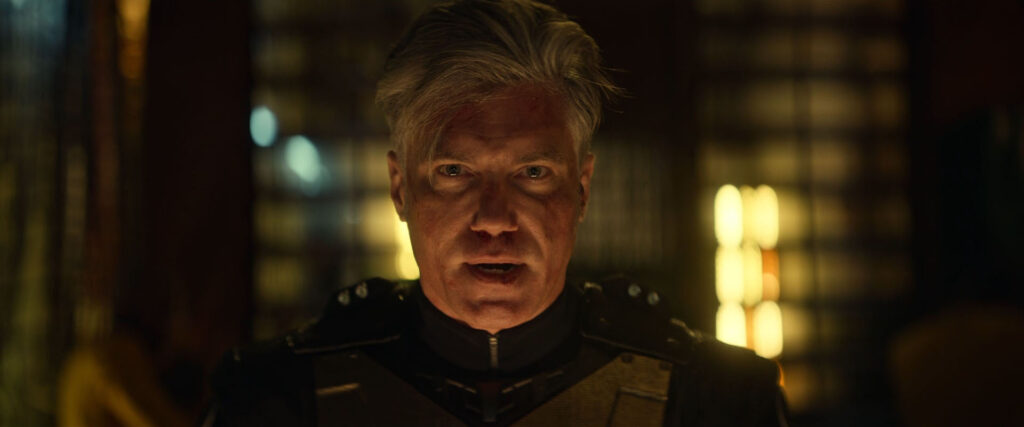 The Cooke Macro 85mm creates strong separation between the subjects and their backgrounds while loudly pronouncing LED sources-- melding the dramatic with otherworldly sci-fi imagery.
THE VISUAL LANGUAGE OF STAR TREK: STRANGE NEW WORLDS
Keenan, who shot episodes 1, 2, 4, 7 and 9, played a heavy hand in setting the visual tone for the series. Whereas
Star Trek: Discovery
had an active camera with movement,
Strange New Worlds
has less movement.
"We're different. It's a living space and we don't get in the way unless called for by the script; which allowed me to go for a bigger camera", Keenan explained. "Our challenge was to make it its own version of the Star Trek universe. Even the language of this show is just different enough to give it its own voice".
Although
Strange New Worlds
departs from its direct antecedent, it is very much akin to the original Star Trek series. Keenan explained: "This really is more like the original series. You can see it in the main themes of our showrunners and the nostalgic quality of the sets, wardrobe, characters and photography. We're being as honest as you can be to a show shot in the 60s with a minimal budget. When talking with my crew—camera, lighting and rigging—we look at our problems as though we're in the 60s. We have a lot of tools, but that doesn't mean we should use everything and abuse it".
COOKE /I TECHNOLOGY
LEDs are instrumental to the look of
Star Trek: Strange New Worlds
. As Keenan noted, "The set's not ready until the lighting is ready". There are over two million LEDs embedded in the set's design, and it takes four operators that rotate between setup, shooting, and programming.
"What works is when the set lights the actors. We're always in an artificial space that's not real. Our challenge is to make it real. The more they're lit with the ship, the more real it is. Any other lighting is minimal".
A fantastic tool for
Star Trek: Strange New Worlds
was actually integrated into the Cooke lenses, themselves. Cooke's /I technology lens metadata was helped the production capture such massive data in the pace required for modern television production. The /I metadata system logs useful information and encodes it into the footage. Data logged through the /I system include focal length, depth of field, focus and f-stop. Metadata like this is crucial to sustaining a speedy VFX pipeline, which came in handy on
Star Trek: Strange New Worlds
.
"I always have the data… always pulling that data for post. I knew everything about that camera and could police it. I don't think I could do a show without it… I'm addicted to it".
---
THE BOTTOM LINE
No longer is full frame anamorphic relegated to the big screen. The cinematography team behind
Star Trek: Strange New Worlds
is using the fantastic technical capabilities of the Cooke Anamorphic/i 1.8x Full Frame SF Primes to bring the Star Trek franchise's visual language to a new level for the streaming age.
The Cooke Anamorphic /i 1.8x Full Frame+ Special Flare Primes
can cost $36,500
for a single lens. Therefore, unless you're a well-funded production company, your best bet is to rent from a dependable rental house-- such as the LA-based Bokeh Rentals!
---
Considering renting? Why not check out Bokeh Rentals equipment packages!
•Rent the Cooke Anamorphic/i FF+ Special Flare Primes at Bokeh Rentals
Contact us to customize a package to suit your production needs at low prices!