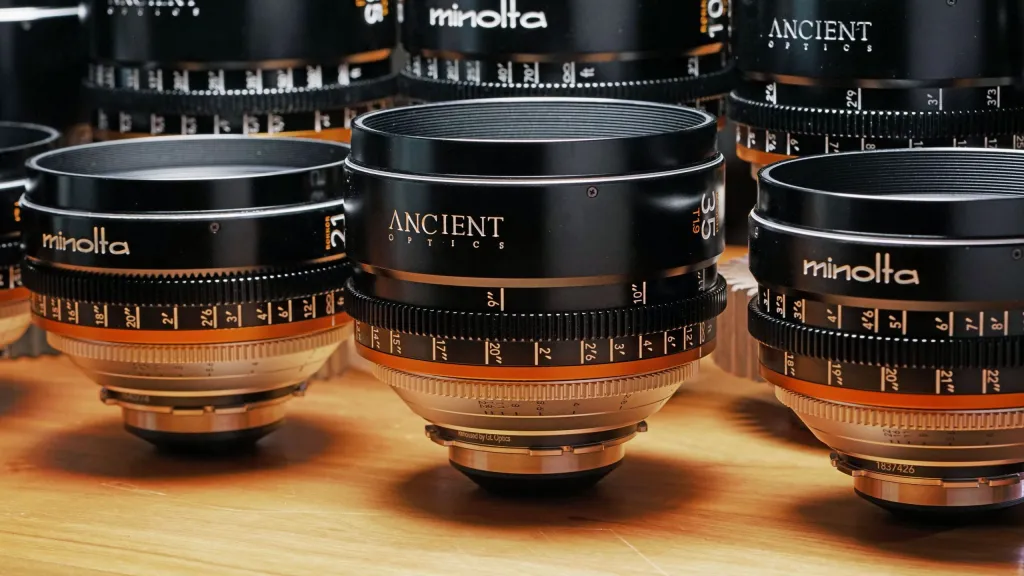 Ancient Optics Rehouses Minolta Rokkor Cine Primes
By Matthew Fresolone | November 21st, 2022
Although optical manufacturers get all the splashy headlines for their new products, there's always exciting news about vintage lenses under the surface.
For example, Ancient Optics recently teamed up with GL Optics (yet again) to rehouse some vintage primes. This time, Ancient Optics is updating the vintage Minolta Rokkor lenses. These lenses have extraordinary image characteristics with high potential for our modern film vocabulary.
| | | |
| --- | --- | --- |
| | | |
| | Ancient Optics teamed up with GL Optics to rehouse fourteen Minolta Rokkor cine prime lenses | |
---
Minolta
The Minolta Rokkor lenses were originally built in the 1960s by Minolta. Minolta is a Japanese manufacturer of camera gear and general electronics, such as printers and photocopiers.
The Minolta lenses are a vintage glass from the 1970s with surprisingly shallow depth of field and a dreamy aesthetic.
Kazuo Tashima, Minolta's Founder, called the lenses "Rokkor" after the nearby Mount Rokky. Since then, however, Minolta was purchased by Sony—making the Rokkors a rare find among cinematographers.
---
THE MINOLTA ROKKOR PRIMES
Rehousing Japanese vintage glass is nothing new for Ancient Optics. Their work on the Kowa Full Frame primes breathed new life into modern cinematography. The Minolta Rokkor cine primes are said to be a cost-effective alternative to the Canon K35 primes from the 1970s.
The Minolta Rokkor primes are full frame lenses, which make them usable for professional filmmaking in the modern era. There is not a universal T stop among the Minolta Rokkor prime lens set. The range of widest apertures range from T 1.3 to T2.9. Each lens has a universal front diameter of 110mm, making them perfect for swapping filters among lens.
The Rokkor rehousings are durable for modern filmmaking scenarios. The new housings are black and silver, with a golden band; the lenses' exterior contains repositioned gears and markings.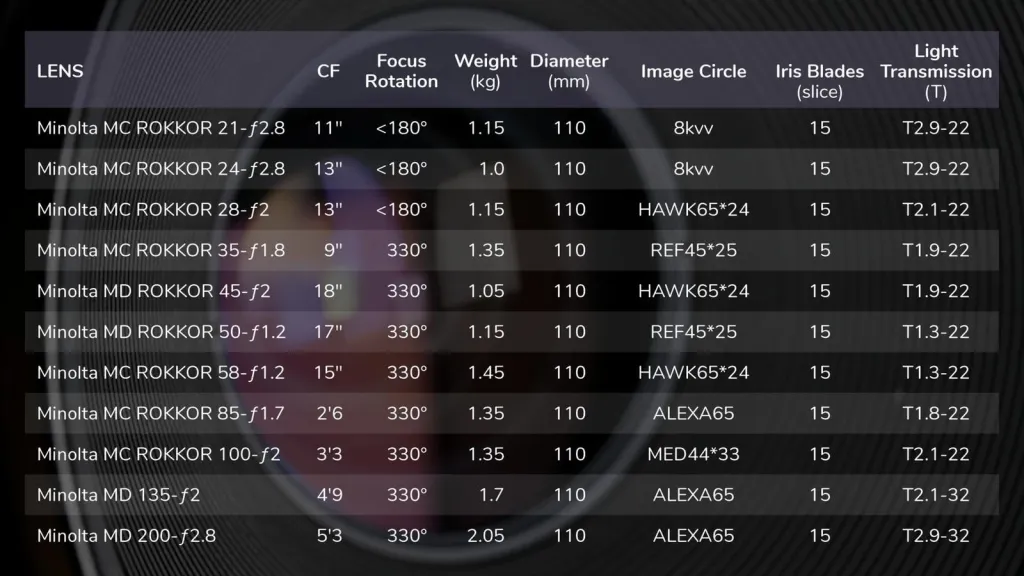 Source: www.vintagelensesforvideo.com
The Minolta Rokkor lenses are very sharp, with a shallow depth of field that pairs well with its flexible aperture sizes. Its 11-bladed iris provides smooth, pleasing bokeh and warm lens flares.
See the Minolta Rokkor lenses in action in this demo reel from Ancient Optics:
---
THE BOTTOM LINE
Although packages will vary based on availability, the most complete set of rehoused Minolta cine primes consist of 11 lenses.  The focal range of 21mm to 200mm will be expanded in the future with an ultra wide 17mm f/4 lens, and there are also plans to include a rehoused 50mm and 100mm macro lenses.
There is a very limited supply of these rehoused lenses. Inquiring about these rehoused lenses could take a while and be expensive—that can be done by contacting
Ancient Optics' Instagram Page
. Your best bet is to locate them at rental houses around Los Angeles—such as Bokeh Rentals!
---
Considering renting? Why not check out Bokeh Rentals equipment packages!
•Rent Kowa Prominar Anamorphic Cine Lens at Bokeh Rentals
Contact us to customize a package to suit your production needs at low prices!