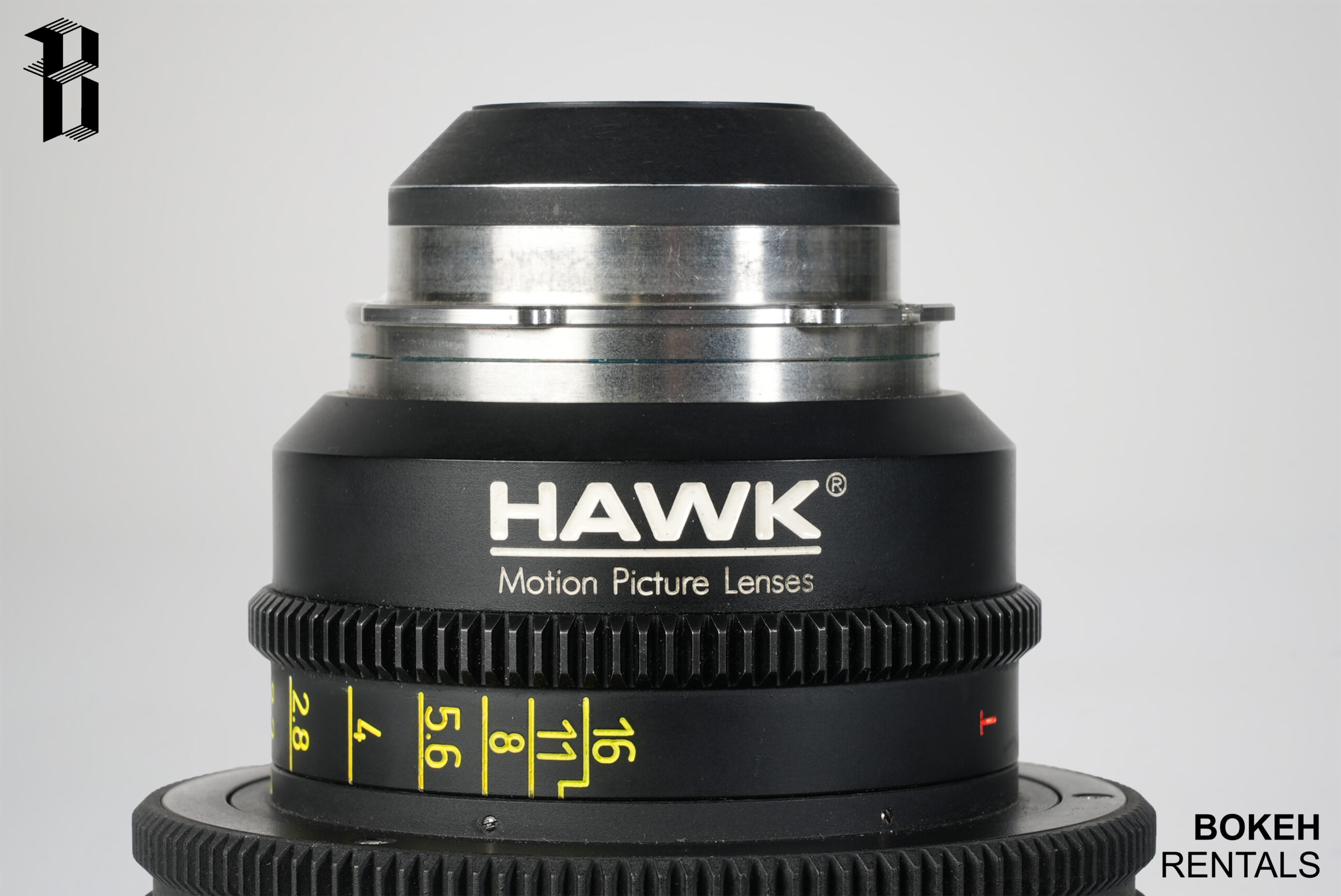 The Hawk V-Lite 2x Anamorphic Primes with 180mm (1 of 2 globally)
By Matthew Fresolone | February 7th, 2023
The Hawk V-Lite 2x Anamorphic primes , aptly named for their extremely small form factor, are incredible builds in the anamorphic space.
THE HAWK V-LITES
Much can be said about the physical characteristics of the V-Lite anamorphics—but what comes first with these optics is its unique look. The V-Lite 2x anamorphics were built to match the look of the Hawk anamorphics, which have been in circulation for over a decade. In addition to ultra-cinematic qualities like a 2x squeeze ratio and a dynamic anamorphic aesthetic, this look is defined by minimal distortion, increased definition and amplified contrast across the entire range. As the "2x" signifies, the V-Lite anamorphic cine primes have a squeeze ratio of 2x. What this means is that the anamorphic lens captures twice as much horizontal information as vertical, resulting in an image that appears more stretched. This 2x squeeze feels "cinematic" in that special anamorphic way, lending compositions to a wider field of view. Words describe, but they can't affect you like an image. Check out the lens test below from cinematographer
John W. Rutland
, which showcases the full expression of these cine primes at their wide open T-stop.
One of the most notable anamorphic qualities in this footage is the incredible flare response of the V-Lite anamorphics. Sharp, streak-shaped flares give the frame volume and a sense of urgency—delivering on the promise of the anamorphic format. Pleasing barrel distortion lends a tactile feel to these primes, especially towards the wider end of the spectrum.  The reactive elements of the anamorphic look, paired with the precise mechanics and sleek look, is the magic combination of vintage-and-modern that renders a unique anamorphic look for the V-Lite cine primes.
---
THE HAWK V-LITE 2x ANAMORPHIC BUILD
The V-Lite primes are the natural evolution of anamorphic lenses—a stunningly expressive anamorphic aesthetic encased in a lightweight housing with precise mechanics. Although the V-Lite primes are a continuation of the Vantage anamorphic look, these cine lenses are designed from scratch; the traditional anamorphic look updated with new optics. Enough cannot be said about the robust form factor of the V-Lite anamorphic. As Vantage touts, the weight of every lens has been reduced up to 20% in this lens package. The weight of the individual lenses range from 1.91-2.93kg (4.4-6.4lbs). This lightweight-yet-sturdy build allows the V-Lites to work for all sorts of rigs, especially freer options like handheld and Steadicam—without fuss. The lenses telecentric design allows equal performance on film and digital cameras. The engraved T-stops on the Hawk V-Lite lenses are constant from infinity to close focus. Similarly, the maximum light transmission is maintained throughout the whole focusing range (contrary to other lenses, which lose some light while focusing).
| | 28mm | 35mm | 45mm | 55mm | 65mm | 80mm | 110mm | 140mm |
| --- | --- | --- | --- | --- | --- | --- | --- | --- |
| T-Stop Range | T2.2-T16 | T2.2-T16 | T2.2-T16 | T2.2-T22 | T2.2-T16 | T2.2-T16 | T3.0-T16 | T3.5-T22 |
| Close Focus | .8m/2'7" | 1m/3'3" | 1m/3'3" | 1m/3'3" | 1m/3'3" | 1m/3'3" | 1m/3'3" | 1m/3'3" |
| Horizontal Angle of View | 82.3° | 65.4° | 53.3° | 47.10° | 39.7° | 32.5° | 23.5° | 18.5° |
| Vertical Angle of View | 35° | 27.8° | 22.7° | 20° | 16.6° | 13.8° | 10° | 7.9° |
| Weight | 2.1kg/4.6lbs | 2.9kg/6.4lbs | 1.9kg/4.2lbs | 2kg/4.4lbs | 2kg/4.4lbs | 2.3kg/5lbs | 2.6kg/5.7lbs | 2.7kg/5.9lbs |
| Front Diameter | 120mm | 120mm | 104mm | 104mm | 104mm | 104mm | 104mm | 104mm |
---
T-STOP
The bulk of the V-Lite primes have a superfast aperture of T2.2. The seven primes from 28mm to 80mm all have this T2.2 speed, while the 110mm is T3.0, and the 140mm is T3.5. Because the V-Lite anamorphics are more affordable than the industry-leading packages like the
Cooke Anamorphic Primes
, they are missing out on the added convenience of uniform apertures across the lenses. While this doesn't necessarily affect the image, it can be seen as a dent for more deep-pocketed shooters. Similarly, the front diameter of the nine Hawk V-Lite primes is not consistent; split halfway between 104mm and 120mm. While there is the argument that even doubling the budget for filters is negligible when considering the cost of renting an entire primes package, some shooters might still err on the side of perfect uniformity, no matter the cost.
| | | |
| --- | --- | --- |
| | | |
| | The Hawk V-Lites have superfast apertures for optimal low-light performance. | |
---
THE V-LITE ANAMORPHIC SET
There are several variations of the Hawk V-Lite anamorphic primes out there for rent. Some include all nine primes: 28mm, 35mm, 45mm, 55mm, 55 (macro), 65mm, 80mm, 110mm, 140mm. This arrangement includes the 55mm macro, which has an exceptional close focus of .35m (1'2"), compared to its ordinary 55mm counterpart's CF of 1m (3'3"). While the macro is a specialty use lens, its capabilities are impressive nevertheless. Some Hawk V-Lite sets are streamlined, opting for a smaller, more affordable package of primes that still covers an extensive focal range. Or: some sets find ways to extend the focal range to give even more power to the V-Lites. For example, the V-Lite anamorphic prime set at Bokeh Rentals includes:
V-Lite 2x Anamorphic Cine Prime 28mm T2.2
V-Lite 2x Anamorphic Cine Prime 45mm T2.2
V-Lite 2x Anamorphic Cine Prime 55mm T2.2
V-Lite 2x Anamorphic Cine Prime 80mm T2.2
V-Lite 2x Anamorphic Cine Prime 110mm T3.0
V-Lite 2x Anamorphic Cine Prime 140mm T3.5
V-Lite 2x Anamorphic Cine Prime 180mm T3.0
| | | |
| --- | --- | --- |
| | | |
| | Bokeh Rentals' specialty-built 180mm T3.0 V-Lite prime is a unique extension to Hawk's prime package. | |
---
THE BOTTOM LINE
The Hawk V-Lite 2x Anamorphic Primes create super-cinematic anamorphic images within a compact, lightweight form factor.
Bokeh Rentals' 
seven-primes V-Lite package is a blend of convenience and affordability. Most importantly, it includes the specialty-built 180mm prime, drastically extending the focal range of the set.
---
Considering renting? Why not check out Bokeh Rentals equipment packages!
•Rent The Hawk V-Lite 2x Anamorphic Primes at Bokeh Rentals
Contact us to customize a package to suit your production needs at low prices!