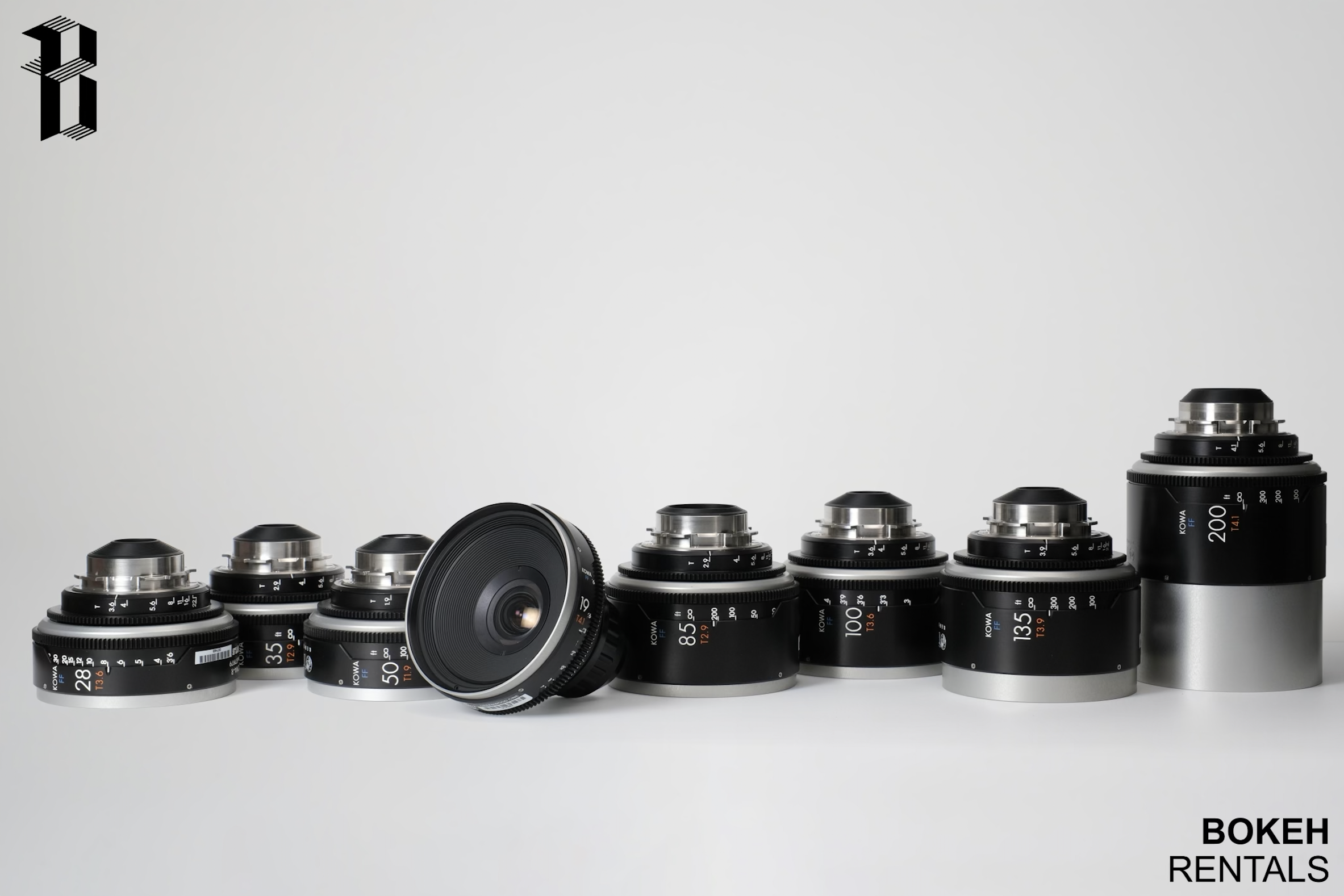 Vintage Kowa Full-Frame Primes | Rehoused by TLS & Ancient Optics
By Matthew Fresolone | October 22nd, 2023
INTRODUCTION
Thanks to modern lens technicians and resellers, vintage glass is never going out of style. An exciting new acquisition from
Bokeh Rentals
is a rehousing of vintage Japanese primes from the 1960s. Not to be confused with the
Kowa Prominars
 or
Kowa Anamorphics
, the Kowa FF primes are exemplary lenses from the 1960s that have been rehoused for modern filmmaking. The rehousing was done by TLS and Ancient Optics, and features seven primes with focal lengths from 19mm to 200mm.
THE HISTORY OF KOWA
Kowa is a Japanese company that manufactured cameras between 1954 and 1978. These TLS/Ancient Optics rehoused lenses were originally manufactured in the '60s-'70s as still photo lenses for particular Kowa SLRS with leaf shutters (an
interesting period in camera design
). But, nowadays, the elements of the still photo design mixed with certain optical traits of the period-- such as the tactile barrel distortion and sensitive flare response-- make these decades-old Kowa perfect material for a modern day prime. Kowa lenses have their own cottage industry of rehousings. For example, Bokeh Rentals also carries the KOWA Prominar anamorphics, rehoused by P+S Technik. Their continued success among rehousing technicians and resellers is owed to the unique, naturalistic image characteristics of the period.
---
Image Characteristics
KOWA FF lenses have soft, naturalistic flares, distinct bokeh, and exceptional color production. The soft bokeh is circular at all stops as a result of the new 14-bladed iris that Ancient Optics and TLS included in the rehousing. Like many vintage lenses the Kowa FF are sensitive to light flares. Although this can be fixed with things like polarizing lenses, this flare-sensitive, naturalistic look lends a tactile feel to the optics—in contrast to the cold, sterile look of many modern lenses. The flares have a gold-and-purple look, which comes off as lively compared to the steely-blue streaks of anamorphic glass, such as the
Kowa Prominars
. Also reminiscent of vintage lenses are the Kowa's pleasing focal falloff. The deep focal plane allows users to capture deep landscapes with astounding detail and pleasing fall-off. Check out the demo below, especially the daytime exteriors on wide angles, to see the Kowa FF primes in action.
VINTAGE CHARACTER
As you can see in the above reel, these rehoused primes are sharp in the center with gentle focus falloff to the corners, lending a subliminally vintage look.  Similarly, the soft, ovular bokeh captures the feel of 1960s film, unlike more stylized bokeh of modern optical manufacturing. These lenses showcase the maximum of their vintage character when wide open. The Kowa FFs have some barrel distortion on wider lenses for a tactile feel and render sharp images (as they were originally still photo lenses). Despite their vintage qualities, these primes perform competitively among modern glass, thanks to their sharpness and excellent color reproduction.
Rehousing
In their rehousing, True Lens Service and Ancient Optics built glass that not only can survive decades longer, but actually competes well among modern optical technology. In updating these '60s lenses, the technicians built lenses that can cover full-frame sensors. Every lens in the series safely covers the ARRI ALEXA LF Open Gate sensor without any vignette. The minimum close focus distance of each lens has been improved in the rehousing. Every single lens has 110mm front diameters, 330° focal rotation for accurate focus pulling, and the industry-standard .8 MOD gears.
---
THE BOTTOM LINE
Kowa's still photo lenses have been rehoused into beautiful, organic optics for modern day filmmaking. Capture full frame images with all the bells and whistles of tactile, vintage optics-- like barrel distortion, pleasing fall-off, and warm flares. Check out Bokeh Rentals' Los Angeles and Las Vegas inventory to secure state-of-the-art glass for your next production!
---
Considering renting? Why not check out Bokeh Rentals equipment packages!
•Rent Ancient Optics TLS Kowa Full Frame Primes at Bokeh Rentals
•Rent P+S Technik Kowa Prominar Anamorphics at Bokeh Rentals
•Rent Kowa Cine Prominar Primes at Bokeh Rentals
Contact us to customize a package to suit your production needs at low price