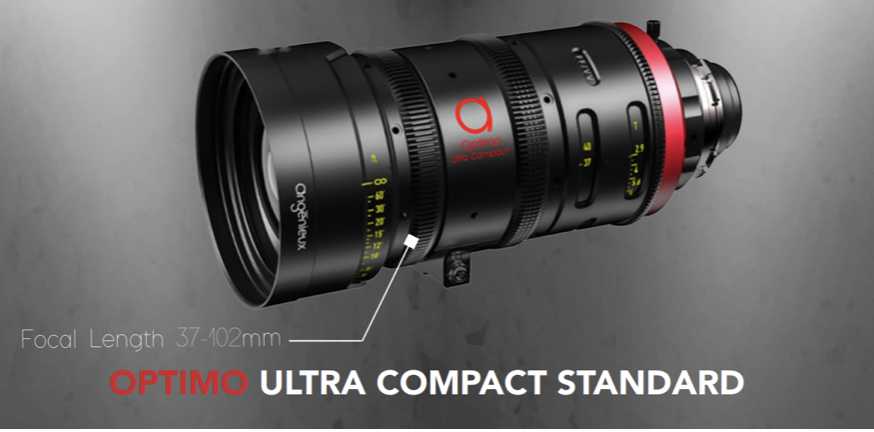 Angénieux Optimo Ultra Compact FF Zoom Lenses
By Bokeh Rentals | January 25th, 2022

Angénieux has been making top tier gear for the film industry since the 1950s, usually breaking new ground in large formats or enhanced form factors. A few years ago, for example, the French optical manufacturer began producing full-frame, lightweight Optimo Prime lenses, which have since found even more success for a brand that's already popular among filmmakers.

Since then, Angénieux has designed and begun selling a zoomable follow-up under the Optimo banner—the Optimo Ultra Compact FF Zooms.

There are only two lengths to this Angénieux package—because with such extensive focal ranges, a third lens is unnecessary. The 37-102mm Optimo Ultra Compact Zoom first debuted in September 2021 and has since been followed by a wide-angle counterpart.

The 37-102mm lens—called the Ultra Compact Standard—weighs a nimble 2.6kg (6lbs). It covers an image circle of 43,6mm, officially making this zoomable, full frame glass.

Although the 37-102mm zoom covers a stunning range of shot sizes—it was followed up with a wider angle zoom lens to give even more flexibility to filmmakers while retaining the rugged, lightweight form factor of the Standard. This full frame, wide-angle zoom lens is 21-56mm, and impressively covers the exact same image circle as the Ultra Compact Standard lens.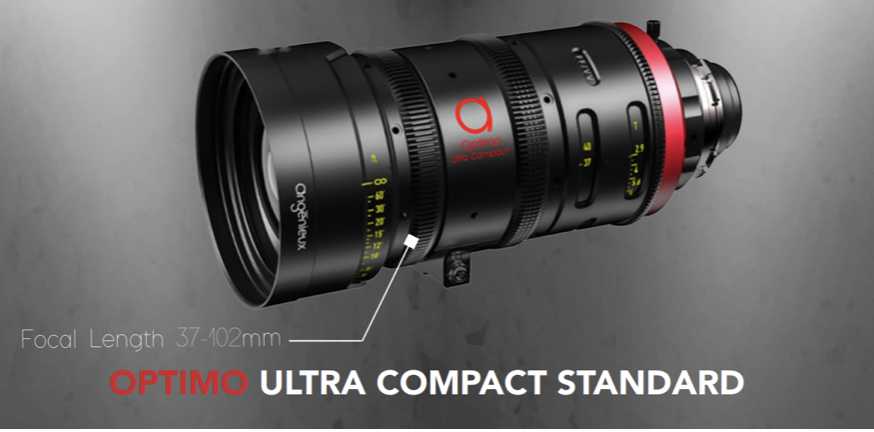 More than most lens series on the market, the Optimo Ultra Compact Zooms from Angénieux were built with painstaking consistency. Both of the set's two lenses have a maximum aperture of T2.9, which is a feat for zoom lenses, since the mechanics required to zoom often limit aperture capabilities.

Also, both the Standard and Wide Angle have a front diameter of 114mm. This means that when you do switch lenses, you can use the same size neutral density or polarizer filters—which not only saves users a few dollars, but more efficiently, saves more space in travel backpacks and gear cases on shooting days.

In addition to aperture, image circle size, and front diameter, both Optimo Ultra Compact Zoom lenses share an identical zoom ratio of 2.4x, close focus of 600mm, metadata capabilities, and 310° degrees of rotation on their focus wheels.

All these similarities look nice on a sales sheet—but they have powerful implications for users. Because the Optimo Standard and Wide Angle zoom lenses share all these seemingly minor specs, users don't have to adjust their operating style when they switch between lenses. The Optimo Ultra Compact Zoom lenses are built to be sturdy, reliable equipment that can backstop the unrehearsed, spontaneous shooting conditions that usually accompany zoom lenses.

As far as zoom lenses go, these two lenses are built to a high standard. They feature excellent center to edge performance, no ramping (neither focus nor aperture), and very low distortion, which is fantastic for lenses that can push as wide as 37mm and 21mm.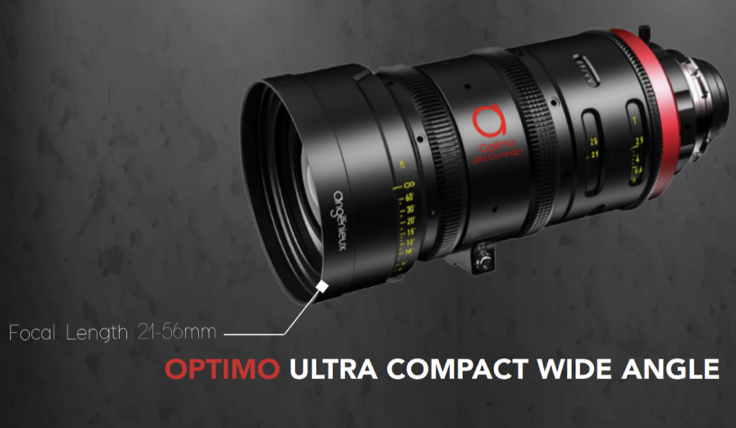 Angénieux describes the Optimo Ultra Compact look as "the perfect homogeneity of color, contrast, and resolution". Pushing against the current trend in anamorphics, Angénieux is leaning towards a contained look without any loud flares or artificial chromatic aberration. This aversion to streaks, flares, and other visual additives is what makes the Optimo Ultra Compact Zooms adaptable to shooting conditions. Whereas most high-end Prime lenses may be more suited for intricate lighting rigs and time-consuming camera set-ups, the Optimo Ultra Compact Zooms are versatile, built for a shooting style that involves camera movement, dynamic shooting conditions, and on-the-fly considerations.

The Standard and Wide Angle lenses have been built to shoulder the wear-and-tear of zoom lenses, with a rugged, compact exterior and durable optical mechanics. The Optimo Ultra Compact Zooms are designed to withstand extreme shooting environments—both lenses operating successfully in conditions from -20°C to 45°C (-4°F-113°F). These lenses are built with a PL mount, making them widely usable among pro cinema camera bodies. Similarly, they can be attached to ARRI FF4 and FF5 follow-focuses, for example.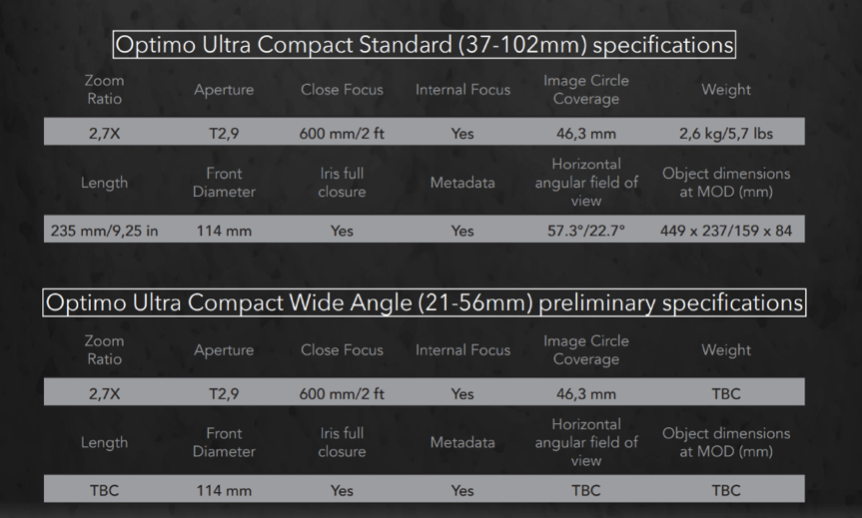 Because the Optimo Standard and Wide Angle Ultra Compact Zooms are remarkably versatile zoom lenses, you may not need to rent the whole package. It's possible that a production plans a visual style that won't call for any shots wider than 37mm—in which case the Ultra Compact Standard should be sufficient for the entire shoot. On the flip side, if a production is leaning heavily on wider shots with some looser mediums, they might find the capabilities of the Standard lens superfluous, and choose to shoot only on the 21-56mm.

After all, Angénieux's mission behind the Optimo Ultra Compact Zooms was to build hyperfunctional, highly durable, nearly all-purpose lenses; and this twosome fits the bill.

Rent the Angénieux Optimo Ultra Compact Zoom lenses from Bokeh Rentals

Contact us to customize a package to suit your production needs at low prices!