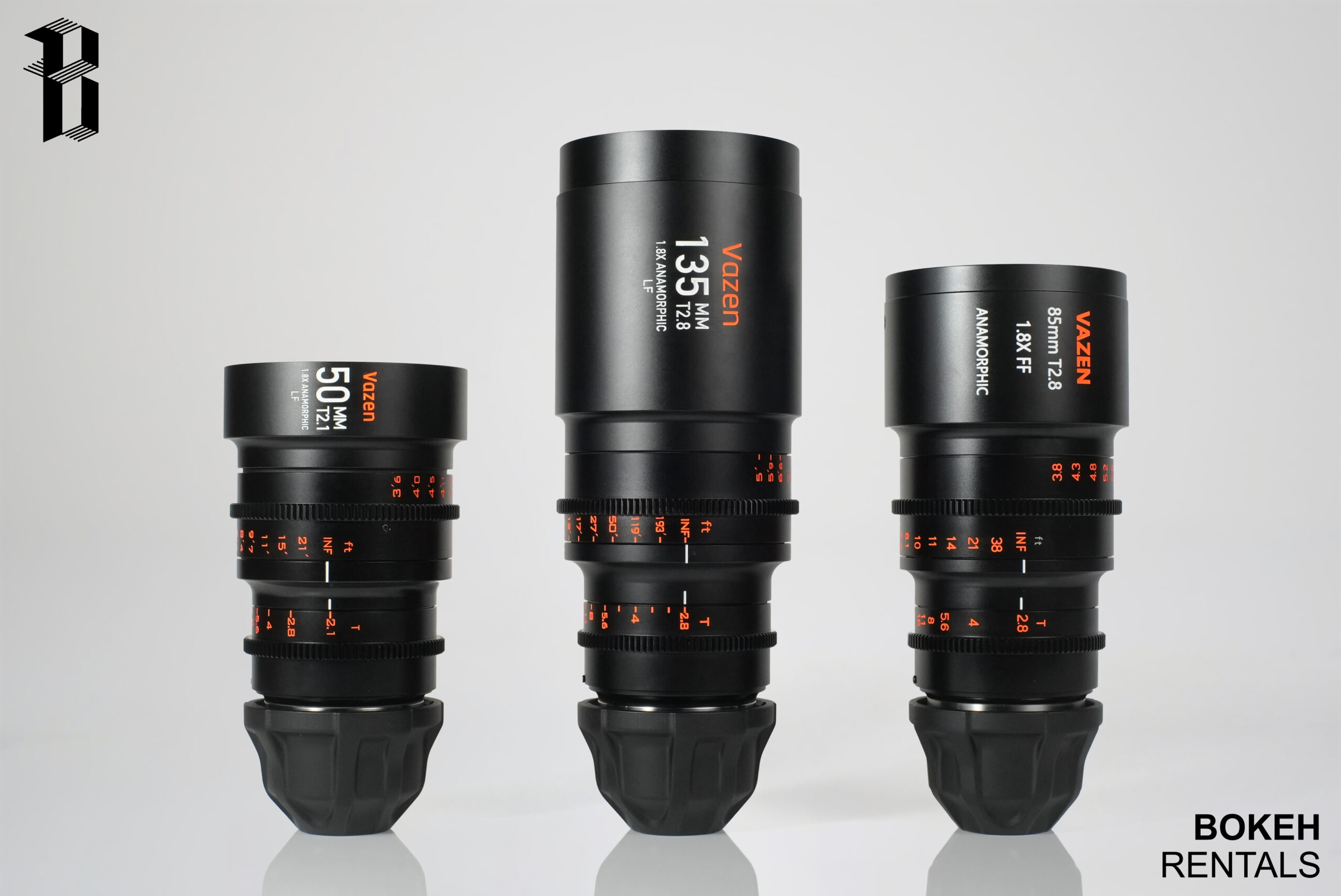 VAZEN Anamorphic – Full Frame Ana's on a Budget
By Bokeh Rentals | January 17th, 2022

Straight out the gate, VAZEN is an optical manufacturer founded in 2019 with the express purpose of building professional anamorphic lenses at a relatively affordable price. Whereas the Cooke lenses cost $32,000 for full frame anamorphic coverage, each item of VAZEN's full frame series costs $8,000 from the manufacturer directly.

As with all optics companies, VAZEN's builds started with simpler capabilities, such as anamorphics for micro four thirds sensors, which are sized at 18mm x 13.5mm with a diagonal of about 21.6mm. Micro 4/3 systems have a crop factor of 2.0, leading to a tighter, cropped-in image.

Now, VAZEN is bringing its anamorphic appeal to systems with larger sensors: full-frame sensors, which by comparison, have an image sensor size of 36mm by 24mm, and a crop factor of 1.0.

VAZEN is effectively placing itself at the most accessible entry point for low-budget filmmakers as the gap closes between affordable gear and full-frame filmmaking.

This new anamorphic FF (full frame) package from VAZEN is made of a 50mm, 85mm and 135mm prime.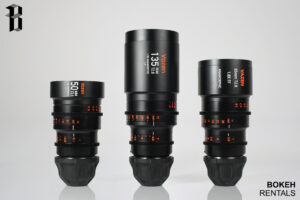 The primary selling point of this lens is full frame anamorphic at a staggeringly low price point—so, certain functionalities that would exist in a ~$30K lens might not be in play with VAZEN's FF set. For example, unlike sets that cost ten times its price, the VAZEN FF lineup does not have a universal maximum T-stop. The 50mm can open as wide as T2.1, whereas the 85mm and 135mm can stop up to T2.8. These figures aren't gamechangers of the field, but they are surprisingly versatile for budget anamorphics. It may take an extra few minutes to swap out lenses between setups—but for such a lightweight, low-cost lens set that can shoot full frame anamorphic, the light capabilities are nothing to complain about.

These three lenses are remarkably lightweight, which means that full frame anamorphic is becoming even more mobile. Many demo reels of the VAZEN FF line go places where FF anamorphic has never been, such as in skate videos or naturally lit city tours. In the video below—which uses VAZEN's FF line on a full frame Panasonic S1H—take note of the lenses' incredible ability to capture wide frames in its wide, anamorphic aspect ratio.



It's only been a few years, but VAZEN is paying close attention to feedback from buyers. It released the 85mm lens first—and it seems that off the response, the company tweaked certain features of the 50mm and 135mm. When the 85mm was first sold, ACs noted that while the focus markings were in feet, they were recorded, bizarrely, in feet only—instead of feet-and-inches. So, any markings that were not in whole feet were represented by decimals—leading ACs to misinterpret the lens' 5.5 feet marking, for example, as 5'5". VAZEN quickly fixed this confusing design oversight with appropriate feet-and-inches marking on all later releases. The manufacturer has also altered other quirks that online consumers nitpicked, such as mismatching fonts on the exterior housing—indicating that VAZEN plans to upkeep its brand image within its specialty market.

Focus and iris rings are geared into the lenses for motors on more enhanced rigs and easier use among focus-pullers. Clearly, VAZEN sees a path to the future with its full frame anamorphic lens set, which is why it includes an interchangeable EF/PL mount to encourage use among a variety of full frame systems, such as the RED RANGER MONSTRO or ALEXA Mini Lf.

This is a budget lens package, so minor quirks should be expected. For example, you may notice slight barrel distortion in the 50mm, slightly chromatic aberration in certain shot setups, or a slight decline in focus ability on the telephoto lens at close focus. As with most gear shortcomings, the faults are circumstantial and can be worked around with some creativity (if deemed problematic).

But, the fact remains that VAZEN's three-lens package is an exceptional build that is already expanding the opportunities of low-budget projects. Full frame anamorphic has always been a mile marker for the quality of a lens set, and it's safe to say the VAZEN is reaching that status with less resources than its high dollar competitors. With time, more and more of the film community will be able to create those authentic anamorphic flares in that unique, much-coveted aspect ratio.

Rent the VAZEN FF 1.8x Anamorphic Lenses from Bokeh Rentals

Contact us to customize a package to suit your production needs at low prices!