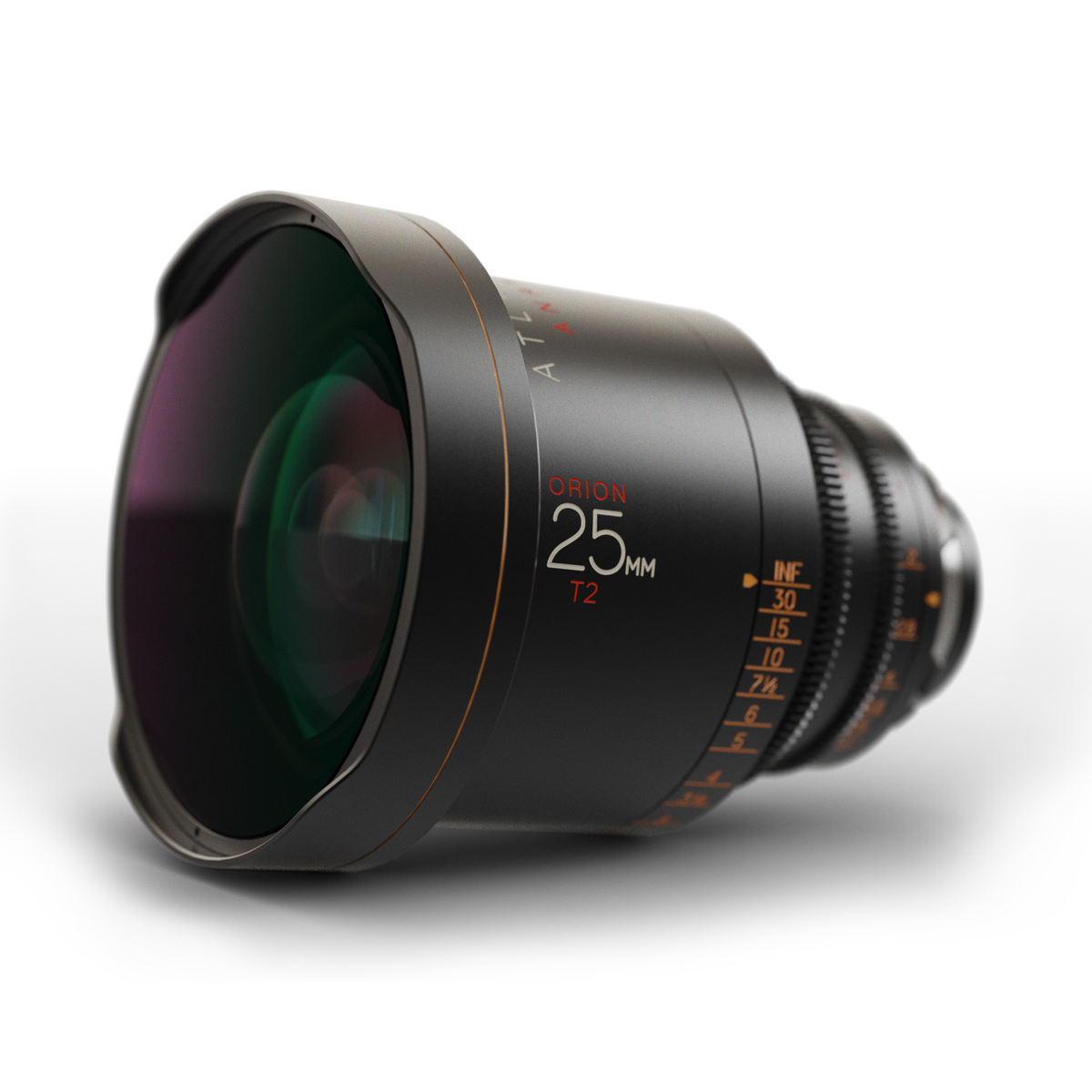 Atlas Orion 25mm T2 Anamorphic
By Bokeh Rentals | February 22nd, 2022


Nowadays, there's a lot of noise in the affordable anamorphic market, and Atlas Lens Co. is making its Orion series a topic of conversation. Whether it's with the original Anamorphic Orion series or its Limited Edition spinoff, Atlas is feeding the growing demand for ~$10,000-tier anamorphic primes.

Recently, Atlas has released another lens in its successful Anamorphic Orion series. This new addition, the 25mm T2—complements the preexisting 32mm, 40mm, 50mm, 65mm, 80mm, and 100mm set.

This set, often compared with the Xelmus Apollo Anamorphics, is capable of T2 across the board; which is pretty good for this 25mm lens and exceptional for the longer lenses of the set (especially the 100mm).

The wide open capabilities of Atlas' new 25mm prime work hand-in-hand with its stunning anamorphic look—as the Atlas Lens Co. official website describes it: "waterfall bokeh", "streak flare", and "pleasing barrel distortion".

Atlas shot a dynamic racecar promo with the Orion 25mm showcasing its speed, smooth shooting, and remarkably subdued distortion. Daytime exteriors, shooting directly into the sun, showcase the Orion 25mm's incredible ability to control the highlights of a bright daytime sky while simultaneously capturing the dark asphalt of a professional, wet-down racetrack—without any artificial lighting.



Although most users won't be run-and-gunning with the Orion 25mm, the extensive imaging capabilities are sure to come in handy on tight shoot days.

Clearly, the 25mm was built to extend the abilities of the Orion line. For example, the 25mm has a closer minimum focus than the 32mm, and still has a 31mm image circle, which is a rather understated accomplishment for a wide angle prime.

However, the 25's front diameter is a different size than the Orion's six other lenses. While certainly not nearing a dealbreaker, DoP's should keep this spec in mind when planning to use the Orion set, so they can prepare additional filters for switching setups.

The 25mm Atlas Orion comes with an interchangeable mount system and can be purchased from the manufacturer with either a native PL or EF mount. The focus ring has an exceptional 270° rotation, and focal measurements can be ordered in either metric or imperials units.

Despite all the impressive demos with stunning visuals and technical achievements, there is a downside to the 25mm (and the Orion Anamorphic set altogether) that might change some renters' minds. And this has to do with its shooting formats.

The Atlas website carefully phrases that the Orion 25mm is Full Frame, LF and VistaVision capable—but that's only if the primes have Atlas' 1.6x LF extender attached. What this means is that for real, edge-to-edge coverage in formats larger than S35, users will need to purchase or rent the $1,849 attachment. Therefore, it's not exactly accurate to call the Atlas Orion 25mm a Full-Frame anamorphic prime—at least not on its own.

This shortfall only constitutes a small asterisk for the Orion Anamorphic series, which is, all-in-all, a stunning anamorphic prime series. In fact, Atlas' Orion lineup was so successful that the Glendale-based optical manufacturer released a Limited Edition "Silver Edition" that retains the original's form factor while tweaking the inner mechanics for a more expressive, differently-colored lens flare; since, after all, anamorphic flair is this package's focus.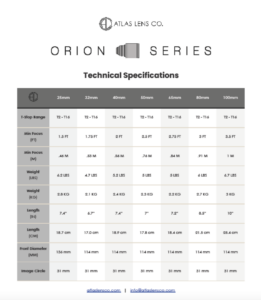 By releasing the 25mm as the seventh lens in the Orion series, Atlas Lens Co. has saved its most impressive invention for last. An anamorphic prime that can get this wide—with such seamless distortion management—at such a wide aperture—certainly pushes the series forward.

The Atlas Orion 25mm T2 anamorphic can be ordered directly from the manufacturer's website for $14,995, which includes a $4,995 deposit made at checkout. The price stands about one-half more expensive than the Orion 32mm ($9,995), and even more expensive than the remaining lenses of the Orion series, which cost $8,995 each, no deposit required. Also, buyers should note that because the 25mm anamorphic prime came as a late addition to the Orion series, it is not included in Atlas' six-lens Orion package. Therefore, the 25mm should be rented separately.

If you're interested in renting the Atlas Orion 25mm T2 Anamorphic, why not try out Bokeh Rentals?

Rent Atlas Orion 25mm T2 Anamorphic Lens from Bokeh Rentals

Rent Atlas Orion Anamorphic T2 Six-Lens Package (32/40/50/65/80/100) from Bokeh Rentals

Rent Atlas Orion Anamorphic T2 Silver Edition Lenses (32/40/50/65/80/100) from Bokeh Rentals

Contact us to customize a package to suit your production needs at low prices!