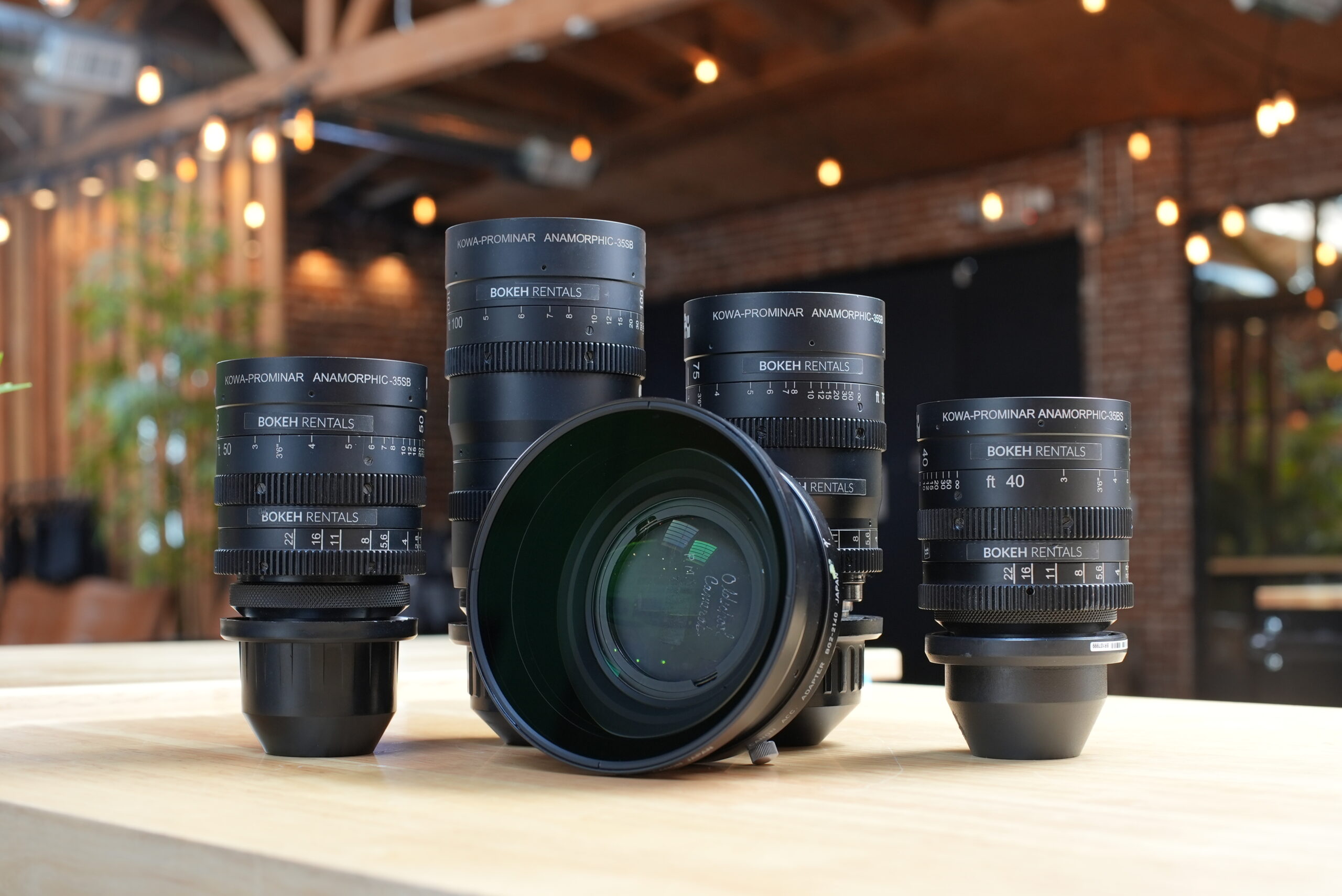 The Kowa Cine Prominar Anamorphic Lenses
By Bokeh Rentals | March 3rd, 2022


When Were the Kowa Anamorphics Built?

The Kowa anamorphic cine lenses changed the trajectory of the anamorphic look from its beginning. Built by NAC Image Technology from the late '50s to the '70s, the Kowa Prominar Anamorphics debuted as a series of four primes: the 40mm, 50mm, 75mm, and 100mm. Their look embraces a low contrast and generally warmer color tone not commonly seen in anamorphics today.

Perhaps in-part due to anamorphic's routine use with science fiction and blockbuster films, modern anamorphic primes render lens flares with a cool, blue tint. Before that trend took hold, however, the original Kowa Prominar anamorphics produced its bold lens flares with warm colors.

See the Kowa Cine Prominar Lens produce its unique lens flare:


Kowa Anamorphic Lens Test from Radiant Images on Vimeo.
From their release to when manufacturing ceased in the 1970s, the Kowa Anamorphics were a favorite among filmmakers, inspiring modern-day rehousings and emulations. In fact, rehoused Kowa Anamorphic primes have been used on films like
First Man
,
A Star is Born (2018)
, and
No Sudden Move
.
WHO BUILT THE KOWA CINE PROMINAR LENSES?
NAC Image Technology was founded in Tokyo, 1958, by Seiji Nakajima.
The Founder's son now operates as NAC's President, and although the company doesn't hold the same household-name status as ARRI or RED, it's highly influential to the modern camera market. In fact, NAC's optical department is one of only two authorized by ZEISS to test its equipment and products.
NAC Image Technology's cameras are also the standard in the automotive industry for recording high-speed crash tests. For instance, the Memrecam ASC-3 M16 (pictured right) is one of dozens of NAC products that can shoot thousands of frames per second. Additionally, NAC has made headlines for supplying its high-speed machines for the Tokyo Olympics and even for winning an
Emmy
from the National Academy of Television Arts of Sciences.
Although NAC Image Technology has moved from consumer filmmaking to become a leading innovator in high-speed cameras, the company's roots lie in filmmaking—as its reputation was built on the early success of the Kowa Anamorphic lenses.
ARE THE KOWA ANAMORPHICS IN USE?
Thankfully, a handful of optical manufacturers and rental houses have stepped in to make the Kowa Prominar's distinguished look accessible for modern-day filmmakers. Although the Kowa Cine Evolutions were built as an emulation of the Prominars, the original lenses have been preserved and rehoused for the latest camera systems. The original Kowa Anamorphic lenses are 2x anamorphic lenses—meaning that its horizontal field of view is twice that of its spherical equivalent. This 2x field of view makes it perfect for manufacturing spectacle on the big screen. Combined with its gentle contrast and heavy flaring, the Kowa Cine Prominar primes create a dynamic, vintage-feeling image with anamorphic dimensions.
P+S Technik, a Germany company founded by ARRI engineers in 1990, is the leading rental house keeping the Kowas relevant. The Technik team equips the Prominar Anamorphics with a durable exterior to withstand modern filming conditions while retaining the same form factor and weight as the original glass. Also, the interior elements are repaired to ensure top image performance, while "
keeping the origin character
".
P+S Technik's rehoused lens package comes with four focal lengths: 40mm T2.2, 50mm T2.2, 75mm T2.5, and 100mm T3.2. P+S Technik also outfitted the lenses with a universal front diameter of 80mm, so swapping between lenses can be accomplished without rearranging any filters. Also, all four lenses have an equivalent image circle 31.1mm and shoot in Super 35 format. They require a PL mount or corresponding adapter.
Anyone looking to coopt the Kowa Prominar look may notice some packages also include a 32mm and 135mm lens—but these are actually Kowa Evolution primes. The Evolution primes are not the same as the vintage Prominars—but synthesized emulations that are often thrown into the lens package to expand the focal range. If you'd prefer to not add the Evolutions to your Kowa Prominar package—but still require the focal range—you can attach a wide angle adapter to turn the 40mm lens into a 30mm.
The Kowa Cine Prominar lenses are a fantastic legend of anamorphic cinema. They can be purchased directly from P+S Technik for 4,800 € (about $5,300) each. The Prominars can also be found at some rental houses for more affordable rates.
Rent the Kowa Cine Prominar Anamorphic Lenses
Rent the Kowa Anamorphics from Bokeh Rentals
Contact us to customize a package to suit your production needs at low prices!