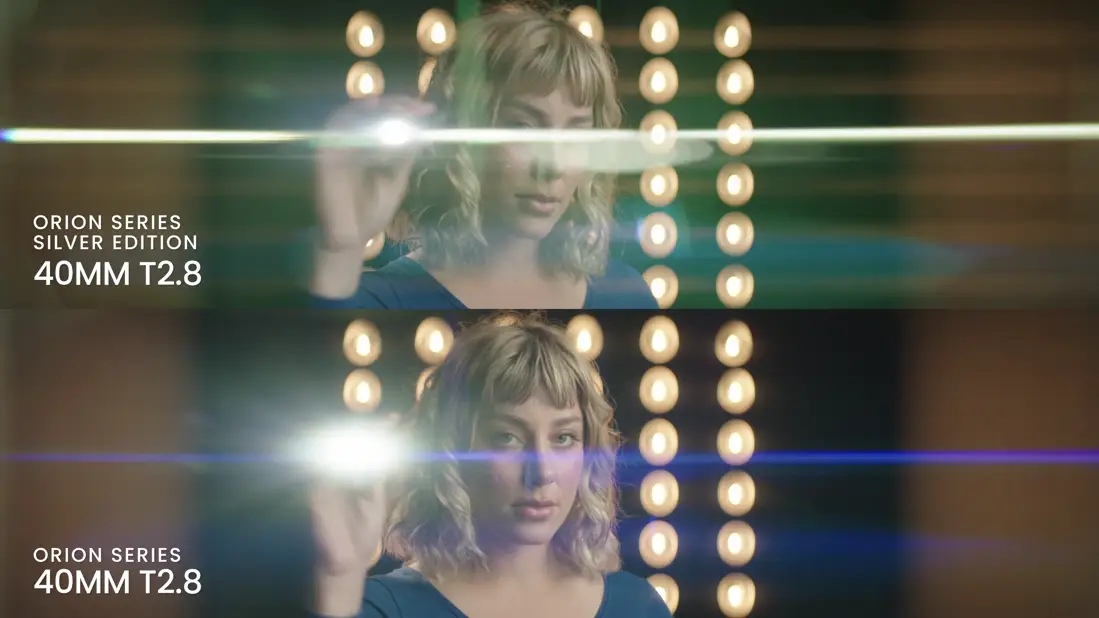 ATLAS ORION ANAMORPHIC: LIMITED SERIES SILVER EDITION
By Bokeh Rentals | January 5th, 2022


Atlas Lens Co. has become a major player in the expanding market of anamorphic lenses, starting with the launch of its Anamorphic Orion series in 2018. Following the popularity of the Orion—a cheaper alternative to higher-end anamorphic primes—Atlas is now offering a limited series alteration of the Orion—dubbed the 'Silver Edition'.

This series comes in a package of six different focal lengths: 32mm, 40mm, 50mm, 65mm, 80mm, and 100mm. It's a versatile series of primes with a wide range, suitable for a full film production. It's worth noting that because these are anamorphic lenses with a 2x squeeze, a 32mm Silver Edition lens would have a comparable frame to about 16 or 20mm on a spherical lens. Therefore, these lenses cover everything from wide establishing shots to intense close-ups.

Atlas Orion Silver Edition lenses all comfortably cover Super 35 format; and for full, edge-to-edge coverage on larger format sensors, such as ARRI LF, Sony VENICE, RED Monstro and others, users should attach the Atlas 1.6x LF Extender. This is because the SE lenses cover up to a 31mm image circle. Atlas has a side-by-side demonstration of the 1.6x LF Extender here.

Atlas Lens Co. didn't build these lenses specifically for large format filmmaking—it focused on optimizing its Orion lens set for a superior anamorphic look. And these anamorphic lenses are remarkably fast—the Silver Edition package has a universal T-stop of 2.0, among the faster end of modern lenses. A highly capable aperture is particularly useful in anamorphic formats, as the ability to "stop up" aids in the creation of light flares, and the wider aperture also embraces anamorphic's distinct depth of field.

Check out this visual demo of the Orion Silver Edition (on a RED Komodo). The sleek visuals still perform wonderfully in daytime exteriors, and can even render beautiful sun flares that tastefully complement the image:



Atlas designed the Orion Silver Edition as a limited-release modification of its Orion series. And so, the SE is built off the same mechanical design of the Orion lenses, but with different optical tuning to optimize the anamorphic look. The exact changes are twofold:

First, Atlas tweaked the Silver Edition to have even more dynamic and expressive lens flare. The flares now have neutral flare characteristics that take on the color of the light source. The new SE lenses pushes back against the established blue-green anamorphic flares that have become so popular in recent years. Not only do these differently colored flares give the digital-anamorphic look room to grow, but on a practical level, filmmakers are able to rely less on VFX or postproduction to create artificial flares.

The second big improvement in the new Atlas Silver Edition is the optimized tuning system, which provides a different focus fall-off characteristic. The original Orion Series' target through-focus is set to 50% fore and 50% after in the focus plane; whereas the Silver Edition is built so the clearest focus lands at 25% into the depth of the target focus, with a smooth 75% fall-off behind the target focus. Essentially, this gives a smoother, longer fall-off to the focus, giving nuance through an extended focus gradient.

Examine the contrasting looks of the original Orion series and Silver Edition re-tuning in this side-by-side video from Atlas Lens Co.:



With its recent modifications to the Orion, Atlas has put a stronger, more expressive image into the Anamorphic Silver Edition lenses—and they have quickly become a rare find in the marketplace.

The Orion Anamorphic Silver Edition prime set is best utilized as a complete package, rather than renting out individual pieces, as is more common with zoom or specialty use lenses. The lenses are relatively easy to swap out, as they have common front diameters of 114mm and are similarly sized. To encourage this, Atlas has only sold the Orion Anamorphic Silver Edition in its entire package.

The six-lens set costs $89,000 in full, which comes down to about $14,800 per lens. Because this is a re-tuning of an existing series, Atlas Lens Co. has limited Orion Silver Edition production to 100 sets, so anyone interested in renting may need to check with a few rental houses. Additionally, the set comes with 2 custom ATA travel cases. The SE lenses are available in metric or imperial scales. They are sold in the standard PL mount, but there is an interchangeable mount system for adapting to other mount systems, such as EF.

The Orion Silver Edition is an excellent continuation of Atlas Lens Co.'s anamorphic prime series—and available to rent now from Bokeh Rentals.

Rent the Atlas Orion Anamorphic Silver Edition Lenses from Bokeh Rentals

Contact us to customize a package to suit your production needs at low prices!