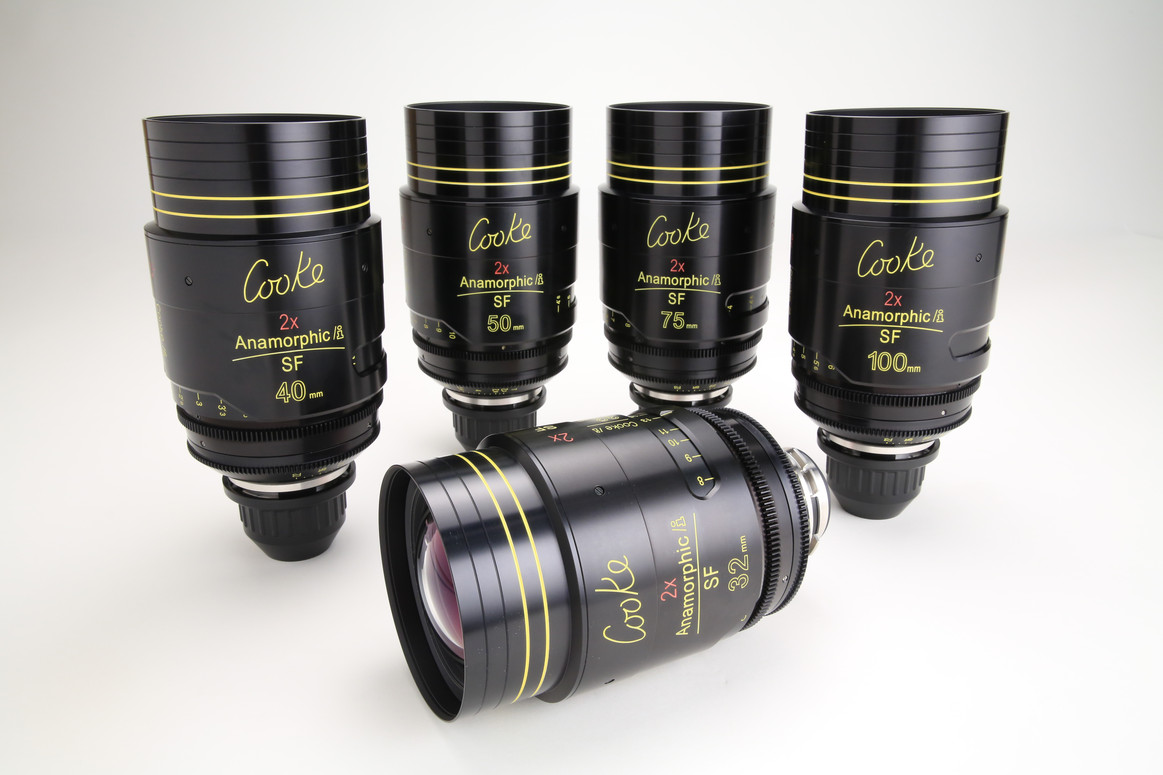 Cooke Anamorphic 2x SF /i Primes | Why They're The Best Out There
By Matthew Fresolone | December 12th, 2022
The Cooke Anamorphic 2x SF are a bold variation of the legendary brand's state-of-the-art glass.
First and foremost, this package is the most updated anamorphics package from Cooke, arguably the world's most accomplished manufacturer of optics. What makes these primes exceptional comes from the "SF"-- which stands for "Special Flare" coating. The Special Flare coating allows these primes to produce truly spectacular flares, bokeh, and other aberrations.
However, these lenses do more than create beautiful images. They are also studded with convenient features, such as Cooke's /I Technology, an intuitive form factor, and versatile capabilities.
| | | |
| --- | --- | --- |
| | | |
| | The Cooke Anamorphic package also includes a macro lens at 65mm. | |
---
2X SQUEEZE FACTOR
This line of Cooke Anamorphics has a 2x squeeze, the ratio sometimes referred to as "traditional Hollywood" anamorphic.
Squeeze factor is essentially the ratio
of horizontal to vertical information captured by an anamorphic lens. So, a lens with a 2x squeeze rate produces an image with a
field of view
that's twice as wide as a spherical lens at that focal range, giving a greater sense of perspective and place.
When compared to the images of, say, a 1.8x anamorphic, these 2x Cooke Anamorphics will appear slightly more 'stretched", giving a denser frame that most laypeople would probably describe as "more cinematic".
This video from Anamorphic on a Budget gives a full explanation of how squeeze factors affect images from a lens.
Although these lenses from Cooke have the "traditional Hollywood" squeeze ratio, there are other anamorphics out there with sub-2.0 squeezes, such as the
Caldwell Chameleon anamorphics
.
---
PHYSICALLY CONVENIENT
There are eight lenses in this Cooke package: 25mm, 32mm, 40mm, 50mm, 65 (macro), 75mm, 100mm, and 135mm.
The Cooke 2x Anamorphics have a lightweight, compact form factor that makes shooting easy. Additionally, all lenses have similar apertures with a common maximum of T2.3. This is remarkably fast for the baseline among the entire lineup (except for the 65mm macro, which is T2.6).
Additionally, all lenses have a common 110mm front diameter. This allows shooters to use the same-sized filters on each lens, therefore saving some time, money, and truck space while shooting. It's this eye for convenience that lets the Cooke 2x Anamorphics go the extra mile for users.
These lenses have a focal rotation of 300°, which allows for accurate focus-pulling. The Cooke primes use both imperial and metric units.
Most importantly, the Cooke 2x SF /i primes cover image circles capable of shooting Super-35 formats. This attribute is why Cooke is used on professional Hollywood productions around the board, from superhero blockbusters like
Harley Quinn: Birds of Prey
to period biopics like 
Vice.
---
SPECIAL FLARE
The Cooke Special Flare lenses are built with a unique coating that amplifies the lens' flare response. The result of the Special Flare coating on the image is an intensified blue-streak lens flare—an even-more-expressive rendition of the typical anamorphic flare.
Check out this showreel from Cooke that shows off the enhanced coating:
You may notice in the images that bokeh is rendered as oval. This is a result of the 11-bladed iris.
The oval bokeh, matched with a responsive coating in the 2x stretch, creates an immersive, highly cinematic image. Special Flare lenses have been compared to other flare-responsive lenses, such as the
BLACKWING7 custom-tuned lenses
, which prides itself on expressive flares. Although the Special Flare lenses are great for creating expressive images for short-form content, such as commercials and music videos—the Cooke lenses have also found great use in feature films such as
Harley Quinn: Birds of Prey
and
A Star is Born,
with the latter winning the Academy Award for Best Cinematography.
---
THE "COOKE LOOK"
A lot has been made of "The Cooke Look",  and rightfully so. But, history aside, these lenses produce a wonderful image with an all-around sharpness, yet with pleasing rendering of humans skin and faces onscreen. Vivid color rendition with a latitude that proves useful in post allows these lenses to be used on a wide range of projects.
The Cooke lenses are built for consistency and color-matched with other Cooke products. Therefore, footage from the Cooke Special Flare lenses can be used alongside footage without the enhanced flares, and minimal color correction is needed. It's advances like this in modern filmmaking that allow filmmakers to experiment with their image to tell expressive, full-throated stories.
---
COOKE /I TECHNOLOGY
These 2x Anamorphic Primes from Cooke use the /i technology system to log useful metadata as footage is captured. Data logged through the /i system include focal length, depth of field, focus, and f-stop. Metadata like this speed up a production's workflow from shooting all the way to postproduction, especially on projects with extensive postproduction, which rely on a sturdy VFX pipeline.
Most industry-leading camera systems are compatible with Cooke's /i Technology. Some include ARRI, Panavision, Sony, RED, and others.
---
THE BOTTOM LINE
These lenses by Cooke are a fantastic variation of their /i anamorphic set. The SF coating sets these lenses apart and gives any cinematographer incredible flexibility to create expressive imagery.
Because there are seven lenses in this set, and one of those is a macro, you'll find varying combinations of these primes as packages from different retailers. If you plan on purchasing a Cooke SF lens outright, be aware that retail prices are
about $30,000 per lens
, not uncommon for lenses of comparable quality.
Therefore, unless you're about a major studio or well-funded production company, it's best to consider renting the Cooke 2x /i SF Anamorphic primes from a regarded rental house-- such as the LA-based
Bokeh Rentals
.
---
Considering renting? Why not check out Bokeh Rentals equipment packages!
•Rent Cooke Anamorphic 1.8x SF FF Primes at Bokeh Rentals
Contact us to customize a package to suit your production needs at low prices!