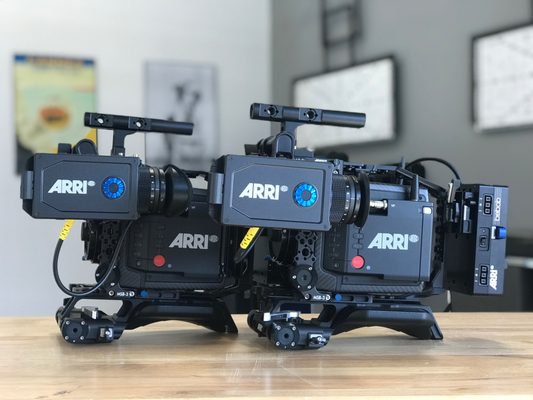 ALEXA MINI LF's NEW 1:1 Square Shooting Mode
By Bokeh Rentals | December 28th, 2021

At this point, ARRI hasn't announced much about the forthcoming ALEXA Mini LF.

We know its sensor's dimensions will be nearly identical to the current ALEXA Mini's sensor. Similarly, it's been stated that there will be recording formats for all Super35 lenses that fulfill the 4K mandate.

As ARRI Camera Systems Product Manager Marc Shipman-Mueller explained: "We have a 4K (4096) 16:9 recording mode for spherical lenses that have a diagonal of 28.5mm and a 6:5 recording mode for 2x anamorphic lenses that has a diagonal of 27.39mm. Both fulfill the 4K mandate" Additionally, it seems that nearly all Super35 lenses shoulder cover the 4K 16:9 shooting format and nearly all anamorphic Super35 lenses should cover the 6:5 format.

Lastly, we know that the new ALEXA Mini LF will be available with either a PL or LPL mount, and users have the option to use an LPL-to-PL adapter for maximum flexibility—but that much was predictable. There's something else ARRI's done, however, that indicates where the industry-leading manufacturer sees the future of anamorphics. This new feature was included in the ALEXA Mini's 7.1 software update: two new recording formats.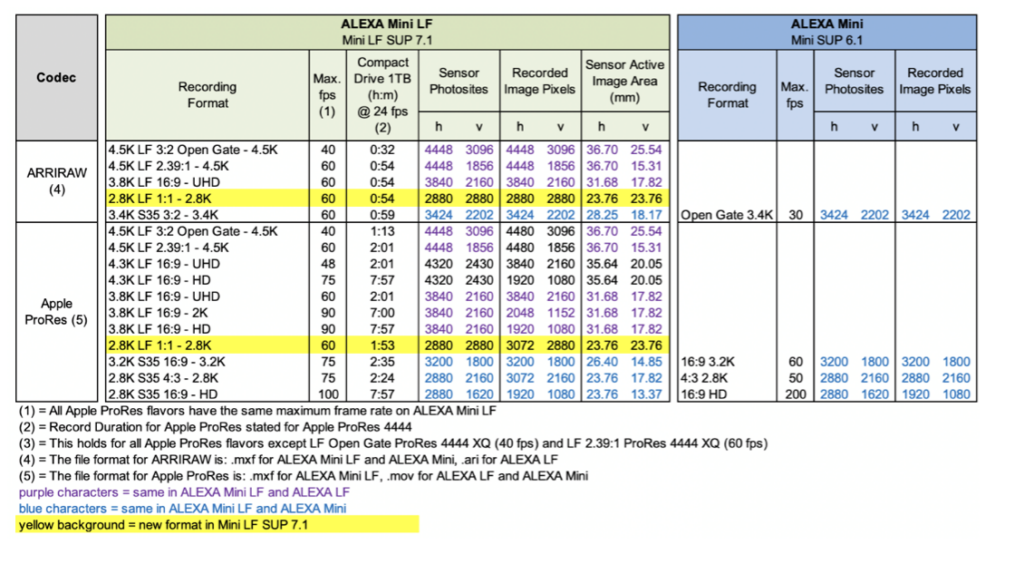 "1:1" might make your mind jump to Instagram—but this new 1:1 "square" aspect ratio has surprisingly useful cinema applications.

The 2.8K LF 1:1 recording format—in either ARRIRAW or ProRes—is a new, more efficient way to capture 4K anamorphic.

Let's take a step back to define what exactly 4K shooting is. For something to be 4K, the camera needs to have a 4K UHD sensor and meet certain pixel specifications: A vertical resolution greater than or equal to 2160 photosites and a horizontal resolution greater than or equal to 3840 photosites wide.

The ALEXA Mini has a 4K UHD sensor, so that only leaves us with the resolution issue.

As for the resolution, the ALEXA Mini LF shoots the 1:1 recording format at a resolution of 2880 pixels wide by 2880 pixels high, and 2880 pixels x 2880 pixels = 8.29 megapixels. Compare that to what we know as the standard 4K resolution: 3840 pixels x 2160 pixels is also equal to 8.29 megapixels.

Therefore, if you shoot with 2x anamorphic lenses on the ALEXA Mini at 2.8K LF 1:1, your image will be horizontally de-squeezed to meet the requirements for the "4K mandate".

The visual demonstration below from FDTimes explains ARRI's 1:1 math: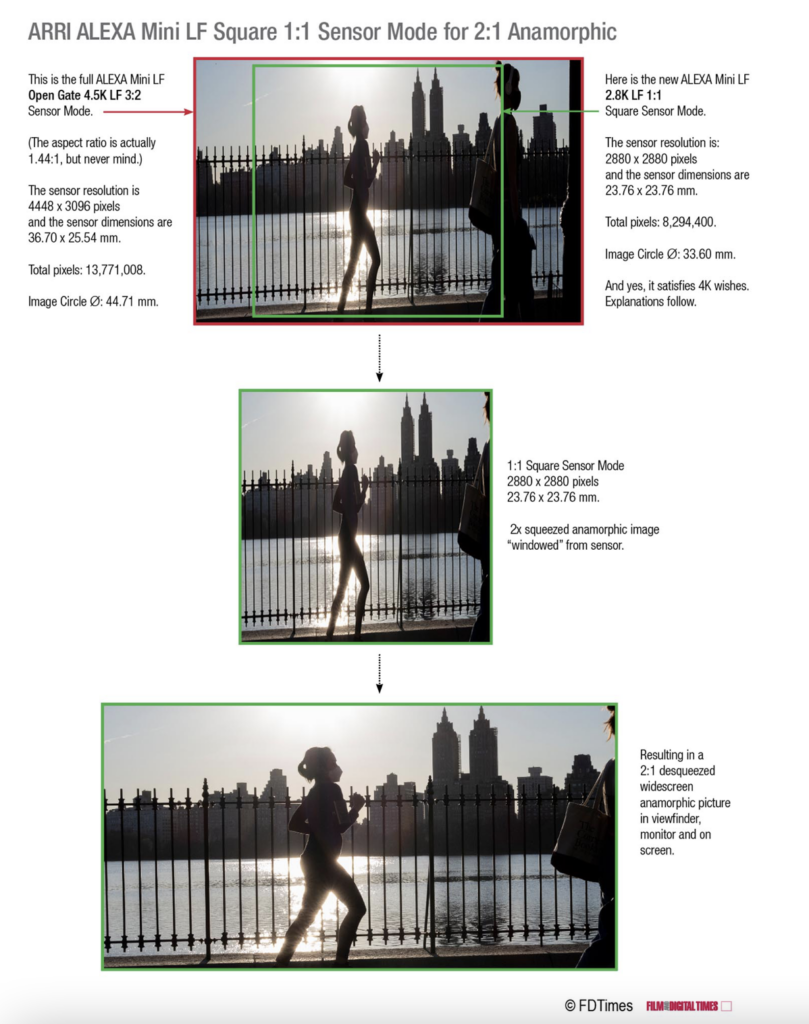 Users should note that in order to satisfy 4K requirements while shooting in 1:1, only 2x anamorphic lenses can be used, as 1.3x falls short of pixel requirements.

So, why bother using the new 2.8K LF 1:1 format?

There are already plenty of ways to shoot anamorphic 4k on the Alexa Mini, such as the 4.5K LF 3:2 Open Gate ARRIRAW shooting mode. These methods, however, involve a lot more cropping in post to get that anamorphic resolution—which means a lot more data needs to be captured and saved onto drives.

For example, the aforementioned 4.5K LF 3:2 Open Gate ARRIRAW shooting format requires file sizes to contain 13.77 Megapixels per frame—versus the Alexa Mini's new 2.8K LF 1:1 shooting mode's efficient 8.29 Megapixels per frame. If all you're going for is anamorphic 4K, and you don't rely on reframing in post, there's little reason to choose the less-demanding 1:1 shooting format.

What 2.8K LF 1:1 means: A streamlined process for capturing 4k anamorphic. Be aware that this requires use of a 2x anamorphic lens and that any cropping or resizing of the frame in postproduction jeopardizes reaching "true 4K" requirements.

Rent the ALEXA Mini from Bokeh Rentals

Contact us to customize a package to suit your production needs at low prices!